200 Hours Yoga Teacher Training In Thailand
200 Hour Yoga Teacher

Training

in Koh Samui, Thailand
If you are aspiring to become a Yoga teacher and want to deepen your yoga practice and understanding of postures and alignments, Oceanic Yoga School offers best 200 Hour Yoga Teacher Training in Koh Samui, Thailand.
Have only love in your heart for others. The more you see the good in them, the more you will establish good in yourself.

  Paramahansa Yogananda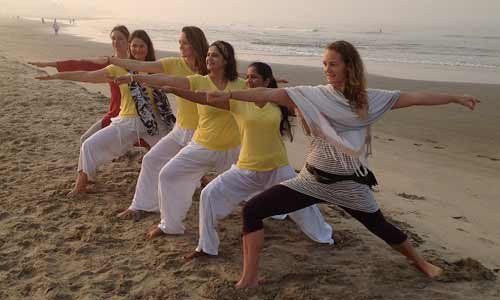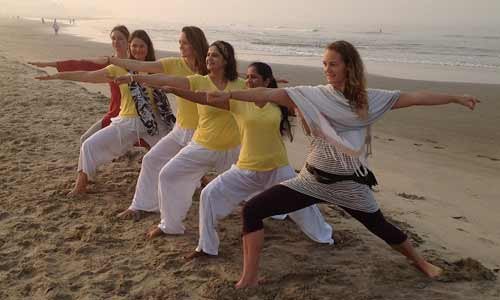 200 Hour Yoga Teacher Training Course in Thailand (Overview)
Oceanic Yoga's 200 hour yoga course Thailand is in Hatha with safe and proper alignment of Asnanas.  It is the first level of training, which allows you to start teaching Yoga all over the world. Through Oceanic Yoga's 200 hour teacher training program, you can become a Registered Yoga Teacher (RYT 200) with Yoga Alliance.
Oceanic Yoga's style of teaching is unique in many ways. From the Asana postures to Yoga Philosophy, our teachers support you and adapt to your individual needs. Safety precautions are essential principles at the school. To enrich the Yoga practice, we have incorporated alignment principles as taught by the world-famous Yoga teacher, Sri BKS Iyengar. While stressing the fundamentals, we also encourage our students to see and explore Yoga in creative ways so that they can discover their teaching style.
Hatha Yoga is considered the traditional Indian Yoga style. Hatha Yoga's style tends to be slower-paced and with varying sequences. The practice of Hatha Yoga balances the Sun (Pingala Nadi) and Moon energy (Ida Nadi) within the body and transforms the lower chakra energies to higher levels. Every pose in Hatha Yoga should be practiced with awareness, respecting the body's limitations.
Upcoming 200 Hour Yoga Teacher Training Thailand 
17 July – 5 August 2020
First day of the training is Arrival day and last day of the training is departure day. It is advised to arrive one day before the training starting day to get recover from traveling and settleing in the place.  
We are offering the training for reasonable fees, kinldy book in time.
All Package includes:
Pick up from Koh Samui airport 
20 Nights accommodation, wifi
3 Vegan meals a day (excludes Saturday dinner and Sunday meals)
Pre-reading material after booking the ecourse
Yoga Teacher Training Manual
Yoga and meditation music
Yoga mat and props provided
200 hrs Oceanic Yoga Certificate Yoga Alliance accredited
200 Hour Yoga TTC Thailand Schedule
7:000 to 9:00 am– Asana Practice and Teaching Asanas
9:00 to 09:40 am–Breakfast
10:00 – 11:30 am – Yoga Philosophy/ Patanjali's Yoga Sutras
11:35 noon to 1:00 pm–Meditation/ Yoga Nidra / Yoga Theory
1:00 to 1:40 pm–Lunch Break
2:30 to 4:00 pm–Anatomy/Physiology/electives
4:15 to 5:30 pm–Asana practice/teaching asanas/Adjustment & Alignment
6:45 to 7:30 pm — Dinner
Saturday Half-day, Sunday Off
It is a sample Schedule, Subjects Change every week.
200 Hour Yoga Teacher Training Thailand – Outline of Syllabus
Yogic warm-up with Suryanamaskar: 
Warm-up your body with gentle exercises and Suryanamaskar before doing the asanas. It activates and stimulates essential elements of the body, which include muscle, organ, and tissue.
Standing balance asanas: Get a firm foundation with balancing asanas and maintain solid grounding with physical stability, as these asanas boost confidence and empowerment.
Sitting Poses, Forward Bends, and Hip Openers: Bring mobility and increase the flexibility of legs, hip joints, and ankles with these sitting poses. These poses allow students to learn the correct placement of legs. Along with sitting postures, forward-bends are also essential, which include cooling, quieting, and introvert poses.
Sitting Twists and Inversions: Twists act as a tonic for the entire visceral system; it improves circulation in spinal muscles and disks.
Back Bends and Hand-Balancing: In this class, the focus will be on physical flexibility for enjoying the feeling of youthfulness and lightness in your body. Give strength to your shoulders, legs, and back with backbend asanas, as your body needs it for performing hand-balancing.
Supine and Restorative Asanas: Give relief to your back pain, and boost flexibility with Supine asana. Restorative poses give calmness and relaxation to the entire body and poses can be held for a long duration without any pain or stress.
Introduction to the History of Yoga, Different paths of Yoga: Understand yoga history with our best yoga teacher training programs in India. Knowing the origin of yoga is as important as practicing it. The aim of all yoga practices is the same- reduce sufferings and give a healthy life.
Yoga Sutras of Patanjali: Yogsutras are divided into four chapters: Samadhipada, Vibhutipada, Sadhanapada, and Kaivalyapada. Patanjali was the first person who introduced yoga practices in a comprehensive volume.
Ethics for Yoga Teachers: A yoga teacher should stick with ethical guidelines in personal life, with students as well as outside the class.
Meditation – Meditation helps to reduce stress and brings peace, harmony, and bliss inside. Active and passive meditation techniques will be practiced to slow down the mind
Yogic Lifestyle and Yogic Diet: The food we eat has an enormous impact on our physical, mental, and emotional states. Hence vegetarian food is served in training.
Introduction to Ayurveda for a Healthy Lifestyle: Doshas depict the combination of mental, physical, and emotional features. Our body will remain healthy if vatta, pita, and kapha are in the balance. Understand your dosha and adapt a suitable diet for your dosha.
Anatomy: Yoga unites mind and body. A yoga teacher should be aware of the inner workings of the body for knowing the impact of poses. The primary systems include skeleton system, muscular system, respiratory system, digestive system, nervous system, hormonal system, and immune system. Anatomy involves the study of all these systems to make yoga safe and healthy.
Physiology:
Three Nadis –  Nadi are nerves in the body. Ancient Yoga texts say that there are 72,000 nadis in the body; the three most significant nadis are Ida, Pingla, and Sushumna Nadi.
Five Kosha's and 5 Pranas -Understand five koshas, namely annamaya, pranamaya, manomaya, vijnanamaya and anandamaya, and how to access them with yoga. Also, know about the functionality of 5 Pranas for achieving complete well-being.
Seven Chakras and Kundalini Energy – In and out, the flow of subtle energies happens through chakras, as they are energy channels. Learn their location and function, as every chakra has a unique color, bija mantra and animal ruler. Kundalini is a spiritual power at the base of the spine. When kundalini awakens, it passes through the first six chakras and merges into the seventh chakra.
Shatkriyas
Jalenti: It means cleaning of the nose with water.
Vamana (practicing of vomiting water): Purify upper digestive tract with Vamana for curing particularly constipation, gastritis, dyspepsia, indispositions of the stomach and spleen, phlegm and bile disorders.
Kapalabhati: Clean your respiratory system, nasal passage, and remove spasm in bronchial tubes. Kapalabhati eliminates blood impurities through exhalation of carbon dioxide in a significant amount.
Basti: It stimulates Vata, cures lower intestine, colon, stomach, the intestinal disorder, gastric problems, rheumatic joint pains, chronic headaches, and thus shows its significance in yoga.
Nauli: Stimulate and regulate your digestive system with Nauli. It massages the whole abdomen and stomach by rolling and contracting abdominal muscles.
Shankhaprakshalana: Practice this deep cleaning technique as it involves synergistic cleaning asanas in sequence. It cleans the entire gastrointestinal tract with saltwater.
Yoga as a business: Know business aspects of yoga and follow the ethical standard for making it a career. Learn ethical yoga business marketing strategies, networking, website, social media, and register with Yoga Alliance.