300 Hour Yoga Teacher Training in Goa, India
300 Hour Yoga Teacher Training Course In Goa registered with Yoga Alliance USA for RYS – 100, 200, 300 hour gets full in advance and this 300 hour Yoga classes Includes Teacher training in Hatha, Ashtanga Vinyasa, Iyengar, Restorative, with Yoga Philosophy, Anatomy, Pranayama, Meditation, and 100 Hour Yin Yoga and Meditation Teacher Training.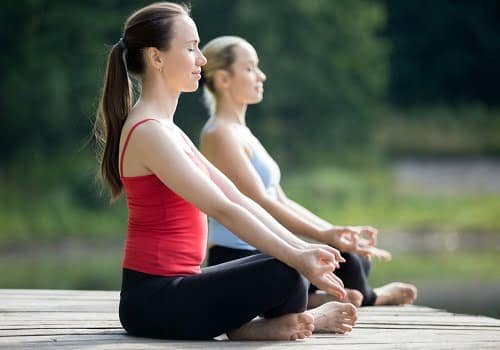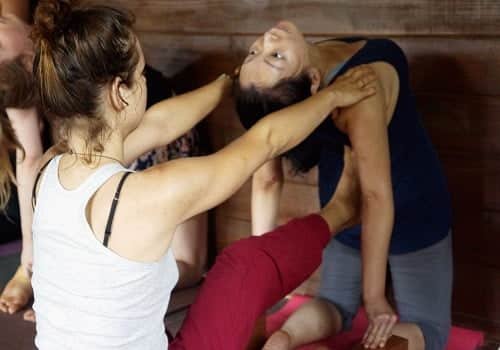 This 300 hour yoga Teacher Training in Goa India is intended to strengthen your already existing knowledge and foundation of Yoga. This course will focus on Ashtanga Vinyasa, Hatha, Restorative, Yin Yoga, technical training, and advanced asana practice. Besides, students will obtain in-depth knowledge of advanced pranayama techniques, meditation practices, structural anatomy, philosophy, and you will have an opportunity to learn and practice hands-on adjustments and alignment during the asana classes. This training Includes 50-hour – Yin Yoga and Yoga Nidra Training.
The level two training (300 hour yoga course Goa) will take you to a higher level while allowing you to deepen your teachings and become a more successful Yoga teacher and practitioner. We invite students from all across the globe who have completed 200 hours teacher training (Yoga Alliance registered). Through intensive study and hands-on practice, you will gain an intricate understanding of teaching practicum and teaching methodology. After completion of the training, participants will be able to register as an RYT 500.
Upcoming 300 Hour Yoga Course Dates 2020 – 2021
First day of the training is Arrival day and last day of the training is departure day. It is advised to arrive one day before the training to get recover from traveling and settleing in the palce.  
The package of 3

00 Hour Yoga TTC in Goa, India
Private Room AC
AC Economy Plus
Book one month in advance to get euro 100 discount
All Package includes:
Pick up from Goa airport or train station in Goa
26 Nights accommodation, wifi
3 Vegan meals a day (Monday-Friday + Saturday Breakfast and Lunch)
Pre-reading material after booking the course
Yoga Teacher Training Manual
Yoga and meditation music
Yoga mat and props provided
300 Hrs Yoga Certificate Yoga Alliance accredited
Package Without Accommodation € 1200. Fees Include: Breakfast (Mon – Sat), Course Manual, Yoga Meditation Music, Yoga Certificate Yoga Alliance accredited.
300 Hour Yoga Teacher Training Course in Goa – Daily Class Schedule
| | |
| --- | --- |
| Time  | Schedule |
| 7:00 am to 9:00 am | Asana Practice and Teaching Asanas |
| 9:00 am to 09:30 am | Breakfast |
| 10:00 am – 10:20 am | Karma Yoga |
| 10:30 am to 12:00 pm | Yoga Philosophy/ Patanjali's Yoga Sutras |
| 12:00 pm to 1:00 pm | Meditation/ Yoga Nidra / Yoga Theory |
| 1:00 pm to 1:30 pm | Lunch Break |
| 2:30 pm to 4:00 pm | Anatomy/Physiology/electives |
| 4:15 pm to 5:30 pm | Asana practice/teaching asanas/Adjustment & Alignment |
| 6:45 pm to 7:15 pm | Dinner |
Note: Sunday Off. It is a sample Schedule, Subjects Change every week.
Outline of syllabus – 300 hour Yoga Teacher Training course in Goa 
Pavanmuktasana: Pavanmuktasana is a series of practices used to warm up the body before doing Asanas. The first series aims to release tension and stiffness in the joints and work on rheumatism. The second series aims to release initial energetic or physical blocks in the body before the Asana practice. The third series eliminates energy blockages in the spine, activates the lungs and heart, and improves endocrine function.
Suryanamaskar and Chandranamaskar: Students will gain a thorough understanding of traditional Suryanamaskar and Chandranamaskar with their variations to create a more effective practice. Each pose will be taught separately with correct alignment and then in conjunction with the whole series, focusing on linking the poses together and coordinating the breath with the movement.
Restorative Yoga: In Restorative Yoga, asanas are held for longer time, supported by props that allow you to completely relax and rest. The class slows down the movements
Practicing and Teaching Beginner, Intermediate, and Advanced Asanas: Students will gain a deep understanding of the benefits, precautions, in the class. A seated, forward bend, twists, abdominal, backbend, and inversion asanas are sequenced. From key verbal cues, alignments, and adjustment techniques. Through beginner and intermediate asanas, the body and mind will prepare to practice the advanced asanas, which will take one's yoga practice to a deeper level. Daily practice of Hatha and Vinyasa classes with an additional exposure of other styles, including Yin, will ensure a holistic and deepened experience of Yoga.
Basic Ayurveda: The purpose of Ayurveda is to maintain good health and prevent disease through a process of identifying your physical and mental constitution. In addition to a basic understanding of the Ayurveda living, students will get a consultation from an Ayurvedic physician who will provide diet suggestions specific to their constitution.
Shatkriyas (Yogic Detox): Shatkriyas detoxify, creating balance in the body to maintain good health, resulting in feeling lighter, healthier, and a deepened yoga practice. Shatkriyas consist of six groups of purification, methods.
Advanced Pranayama Practice: Breath is the most vital process of the physical body, having a deep connection with our body, mind, and emotions. Pranayama techniques expand the breath opening the door to physical, mental, emotional health, and inner transformation.
Mudras: Mudras are gestures or attitude, and they are a combination of subtle physical movements, which alter mood, and perception and deepens awareness. Tattva, Pranic, and advanced mudras will be combined with Pranayama or meditation.
Bandhas: By learning the physical movements of Moola, Udiyana, Jalandhara, and Mahabandha, energy is focused on improving the effectiveness of asanas and breathing practices.
Mantra Chanting: Mantra chanting practice will give confidence to the students to continue this tradition and share this practice in their classes. The differences between Mantra chanting, singing.
Meditations: Understanding the nature of thoughts, emotions, and mind. Learning to overcome or witness thoughts. Active and passive techniques are introduced to help deepen your meditation as well as help you guide others into meditation.
Yoga Nidra: In the session of Yoga Nidra participants relax with awareness. They are guided by the teacher or audio recording, which takes the participants into deep relaxation, releasing the tension for the body and mind.
Karma Yoga: Karma Yoga is a selfless action without expecting anything in return from people, community, or environment. Practicing 20 minutes of Karma Yoga a day will bring you closer to the people, society, and the environment around you.
Teaching Methodology: Aspiring teachers will have the opportunity to teach Asana classes of a style of their choice by creating their sequencing of and incorporating Pranayama, Mudras, Bandhas, Meditation, and Kriyas.
Observing Others Teaching: Observing in the class while another teacher is teaching. It is an excellent way to learn positive qualities and to observe students also can be good learning. The multiple teaching practice sessions will make the aspiring teachers more confident to share their newly acquired knowledge.
Human Physical Anatomy and Physiology: The following body systems will be studied in detail: digestive, lymphatic, endocrine, skeletal, muscular, cardiovascular, reproductive, and nervous. Additionally, tension and compression theory relating to the joint and muscular movements in various asanas will also be covered.
7 Chakras: Detailed coverage of 7 chakra locations, functions, characteristics, colors, and the role will be studied and discussed.
3 Nadis: Nadis are energy flows in the body, which will be discussed in their relation to chakras, asanas, and Pranayama practices.
5 Koshas: Koshas are the five layers of the body, according to Yogic Philosophy, which allows individuals to go into a deeper layer of one's self.
Yoga Philosophy: Yoga Philosophy will include its origin, aim and tradition; history of Yoga and it's evolution, various yoga styles focused on specific goals. Hathayogpradipika by Swami Swatmarama and Patanjali will be explained and discussed, covering the implications of these two texts on the path of Yoga.
Bhagvadgita: Students will be introduced to the Bhagwad Gita, a series of wisdom on various spiritual paths of realization, including holistic yoga practices.
Ethics for Yoga Teachers: For every Yoga, teacher ethics are essential, without following ethics, Yoga is incomplete. Yoga Sutras of Patanjali is part of ethics.
Business aspects of teaching Yoga: There will be a discussion on different opportunities and ways of teaching yoga, organizing workshops, assisting in Yoga teacher training programs, starting a new yoga studio or center with ethical and legal guidelines. Additionally, we will provide direction for how to register with Yoga Alliance as an RYT or E-RYT.