Yoga Internship Programme
At Oceanic Yoga, you can now avail the incredible opportunity of becoming an intern, if you have graduated as RYT200, from any of the schools recognized by the Yoga Alliance.
As an intern, you will be entitled to gain hands-on teaching experience, along with an exemplary chance to learn from the polished teachers at Oceanic Yoga. During your tenure as an intern, you will be expected to work as an assistant teacher for the various courses provided by our institute. The internship program will be aimed at helping you gain confidence by learning from our experienced teachers as well as aiding you in understanding the different aspects of a yoga institution such as administration, finances, marketing, and promotions.
In order for your journey as an intern to be as seamless as possible, you will be provided with complimentary accommodation as well as meals. The teaching materials that you will need to refer to will also be provided free of cost. However, traveling to and from our facility will be at your own expense.
During your internship, you must be prepared to –
Welcome new students
Organise orientation day for the new batch
Attend various classes in order to gain the requisite clarity and understanding for each subject
Observe and assist students in Pranayam Classes
Observe and assist students in Asana Classes
Assist teachers in the smooth conduct of classes
Assist students with their homework
Provide feedback to students pertaining to their progress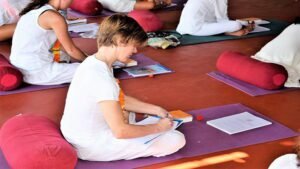 During this internship, you will be the go-to person, not only for the students of the institute but also for the teachers whose class you're assisting with. It is for this very reason that we at Oceanic Yoga are keen on accepting only those applicants as interns, who are ready to give in their best, in terms of both efforts as well as knowledge. When you're interning with us, we will take all possible measures to help you understand the philosophy, the code of conduct as well as our teaching practices.
In order for the internship to be of good use to you, we insist that you intern for a minimum of 2 months with us. Once you have completed this tenure and have gained enough experience, we will be happy to allow you to teach your own classes. This will, of course, be after you have been approved by our lead teachers.