Oceanic Yoga Teachers Team
Om Sarvam Shivarpanam.
Naren is a mechanical engineering graduate and has had stints in corporate and startups. Taking a break from his start-up he started to travel across the country with the
intention to experience whatever was on offer, many times it was unconscious with just a need for moving. Being close to Nature and varying landscapes along with the
practice of Yoga were the source of building awareness of existence. It was enough to give the feeling of contentment temporarily. These travels instigated an exploration of the
scriptures, primarily the Upanishads. Also, he was drawn into a childhood interest of writing the experiences in the form of narratives.
He narrates – "In one of my travels, on a full moon night, I sat on the hills of Tiruvannamalai, soaked in the vision of the silhouette of the grand temple and the hills accompanied
by a cool breeze. The plan was to sit and remove all thoughts from the mind and sit simply with no other agenda. I even had a flask of tea and couple of fruits in case I got hungry or weary.
At first so many things crowded my thoughts – from the most pleasant to horrific things. It was a fight. I don't know the quantifier of time but eventually the sun shone strongly bringing back the senses to function. The fruits and tea were untouched. I felt energized.
On my way back a holy man sitting on the pathway described to me about the energy of Arunachala and gave me a copy of Naan Yaar (Who am I) questions dealt by Sri Ramana Maharshi on self enquiry" Since that experience, Naren says he
has been a Yoga Sadhaka working on various spiritual practices (layers and dimensions of existence – like Prana, Bhutas, Chakras, Kundalini, Consciousness and the likes).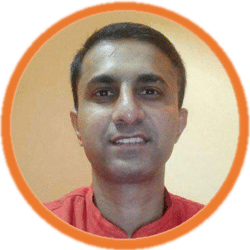 Girish Ji is the most humble and friendly person one can come across. He graduated in Computer science and worked at Infosys (A leading Indian I.T. organization) for around 3 years but he left every last bit of it as he continued looking for truth. He practised Sadhna at many spots in South India, Manali, Nepal and various other places. The Vipassana meditation in Pune brought a remarkable change in his life. The subjects like Anatomy and Physiology constantly inspired him for additional research. He is a Doctorate in Naturopathy and Yoga. He has been showing Physiology and Anatomy at Oceanic Yoga and at numerous Yoga schools in Rishikesh for more than 5 years.
Manmohan Rupal Ji is a double master's degree holder in human brain research, a comprehensive healer, a holistic mentor, and amending tattoo artist. Born and brought up by a naturopath father and Reiki ace mother built the motivation in him everything encompassing healing from a very young age. Besides the combination of mental expert degrees, Manmohan Ji has mastered himself in some selective yogic psychotherapy, which was an exceptionally viable instrument in yoga practices to beat psychosomatic issues like despair and nervousness.
He had envisioned of opening up of a yoga school that presents yoga in its true essence combined with the traditional detoxification science of Naturopathy. A large part of Hari Ji's childhood was spent in serving and taking care of hundreds of sages and sadhus. Being a national level player in his youth, yoga was an essential part of his routine. However, he realized that in present times, the bodies of most people are full of emotional and other kinds of garbage, which hinders one's growth. This led him to develop "Emotional Blockage" treatments as well as using Naturopathy detoxification.
Varsha is a Gold Medalist in B.Ed (Yoga) from Punjab University ,Chandigarh. M.A in yoga from Uttarakhand open university, P.G Diploma in Guidance and counseling from annamalai university Chidambaram and is a Certified Yoga teacher from Yoga Alliance U.S.A. From past 5 years She is taking classes in Chandigarh ,Bhopal and Rishikesh.
She has specialization in Yogic art of Pranayama and Meditation. She is an spiritual seeker from past many years and for her yoga is passion not mere a profession, she is always open to explore and learn new things in life which helps her in her internal as well as external growth.
Prem Lalit, a yoga teacher and a therapist by profession, has a long-time experience in the field of Yoga and Meditation.
Since childhood he started exploring and taking different approaches in an effort to study yoga and meditation in the best possible way and apply it to his everyday life.
He deepened his understanding during those days through various explorations and studies, he started visiting such spiritual locations to find what he was seeking.
He graduated from Gurukula Kangri University in Haridwar and completed his yoga therapy and yoga teachers training in the intensive course of M.S. (Yoga and Consciousness) from Swami Vivekananda Yoga Anusandhana Samsthana (S-VYASA), Bengaluru, India.
Along with his specialization in Yoga Therapy, he is also a practitioner of Hatha Yoga which he learned under traditionally experienced teachers.
Through online and offline modes, Prem Lalit has helped many people from many other countries to get better from various ailments.
He has been to Vipassana, OSHO meditations, Yoga retreats, healing methods, and many other explorations in his journey.
Chetan is the highly experienced professional lead teacher at Rasovai.
Chetan's educational background includes a Bachelor's degree in Science, a Master's degree in Reiki, and multiple diplomas in massage therapies such as Ayurveda, Abhyanga and Marma, and Ayurveda Yoga Massage. He has also undertaken studies in anatomy, physiology, psychosomatic conditions, meditation, and healing. Moreover, he is a registered yoga teacher with the Yoga Alliance. With over 20 years of experience, Chetan has shared his expertise and teachings both in India and internationally.
Having taught across the globe, Chetan has delivered courses at renowned institutions such as the Rosenberg European Academy of Ayurveda in Germany, Atomodaya in Zurich, Sundari Ayurveda in Germany, Ayurveda Praxis in Germany, and Shakti Ayurveda in Latvia. He has also conducted trainings in Aryol (Russia), Le Manoia (France), Frankfurt (Germany), Mallorca (Spain), and Sweden.
Chetan's teachings are a culmination of his diverse experiences, ranging from ten years of practicing meditation at the Osho Meditation Commune in Pune to studying yoga at the esteemed Iyengar Institute, also located in Pune. His knowledge extends to various massage styles and holistic healing methods acquired throughout his two decades in the field. Combining his wisdom and expertise, Chetan has developed an exceptionally effective and medically sound holistic massage therapy technique known as Ayur Balance Massage, which is based on the principles of Ayurveda and performed on a massage table.
He is also teaching another very powerful massage technique called as Ayur Yoga Bio Mobilization massage based on Yin Yogic principal and deep tissue massage.
Along with this Chetan conducting a 9 days compact meditation and dhyan nidra teacher training each month at Oceanic Yoga where he is offering some unique and insightful techniques to learn and adopt in life.
Julie Vanacker is the Administrator and partner at Rasovai. She overlooks the day to day functions of Rasovai along with assisting in the trainings as needed.
Born in Belgium, since her childhood Julie has grown up with a thirst of inner search which led her to discover various spiritual modalities and paths undertaken in her growing years.
She is also a trained massage therapist, a trained beautician and a bodyworker who has studied Deep tissue bodywork, yogic manipulation bodywork and a variety of traditional Ayurvedic massages.
Next to her administrative work she is currently offering sessions in Ayurbalance massage, Yoga Balance bodywork, and soft tissue-deep tissue massages.
While fulfilling her administrative role, Julie concurrently offers specialized sessions in Ayurbalance massage, Yoga Balance bodywork, and soft tissue-deep tissue massages.
A few words from Kris Ji…
Life is a pilgrimage and a longing to experience the inner. Yoga and Meditation are the paths to this beautiful journey.
I had the blessing and the opportunity to live with a man of Yoga and Meditation for many decades (In fact from the age when I was 17) and the journey still continues.
Oceanic Yoga is the door and opportunity to experience and share this inner pilgrimage where Pilgrimage meets Goal "Pilgrimage itself is the Goal".
In Hindi we say
"Yatra Hi Manzil Hai".
You are all invited and welcome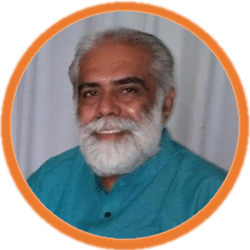 Skilled and certified yoga instructor with the ability to build effective relationships with students of all backgrounds and skills levels. Hardworking, dedicated, and supportive with excellent communication, able to empathize with people.
He is seeker of truth since childhood. Started his journey with prayers, social service, austerities, and Tapas. Lived with first Guru before he was asked move on to understand the practicalities of living in the world and social functioning. During that time, he came across Osho and soon he was magnetically pulled to his Master in the Himalayas. He has committed his life for understanding the mysteries of life and death and encountered meditation. The journey continues.
Holds Master's in Computer Applications and he also worked in top notch corporates at very senior posts for a few years.