Best 200 Hour Yoga Teacher Training in India
The best spot to learn Yoga that offers the 200 Hour Yoga Teacher Training in Goa Certified by the USA is Oceanic Yoga School. It is designed to train you for Yoga as a beginner. The Yoga Alliance USA has recognized the center, and the course covers all convenience and meals for the entire course period.
The fundamental goal of this yoga course is to give you all the knowledge and confidence to be a good teacher, and you can also be a messenger to spread the benefits of Yoga all through the world. You will be trained under Yogi Abhay and his group, a well-recognized yoga teacher and spiritual guru and the group as a great deal of experience in the field. We offer you the most amazing opportunity to become a professional Yoga teacher with the 200 Hour Yoga Teacher Training Course in Goa, India. After the fulfilment of this course, you will become a Yoga Alliance certified Yoga Teacher.
We aim to teach you Hatha and Ashtanga Yoga is its original forms and all entireties. The main strength of any school is their teachers, and we are fortunate to have been joined by some gifted, talented, and experienced teachers who clear every part of yoga to their students. Our Yoga Teacher Training is a complete set of hypothetical classes and functional meetings, Asanas and Pranayama methods, Anatomy and Physiology classes.
So if you aim to become a learned Yoga teacher, then don't wait anymore! You have reached the perfect spot, which is the Oceanic Yoga School. Even if you want to learn Yoga just for your self-awareness and don't wish to teach Yoga, you are still most welcome to join the course. You will, in any case, learn as far as you can and discover much on the course to upgrade your training.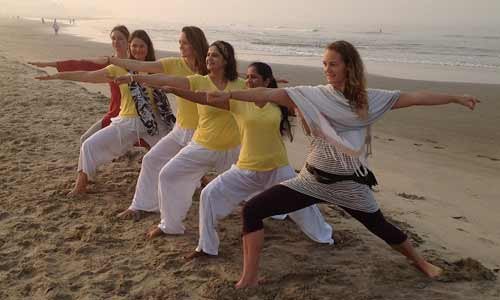 200 Hour Yoga Teacher Training Overview
The Oceanic Yoga's teacher training program enables you to become a certified Yoga Teacher (RYT 200) with Yoga Alliance.
The Yoga teacher training course offered at Oceanic Yoga school cover both Hatha and Vinyasa styles; you can decide to get trained in just Hatha Yoga or both. Although it's a beginner level course, once completed, you become a certified Yoga teacher and can teach Yoga anywhere in the world.
Our way of teaching is unique in many ways; it is also what we call "Yoga in its original form". From the Asana stances to Yoga Philosophy, our teachers support you and adjust to your personal necessities. Safety measures are strictly implemented at the school. In addition to focusing on the essentials, we also urge our students to perceive Yoga through their eyes to find their style of teaching.
Hatha Yoga is the traditional Indian Yoga style. Hatha Yoga's style will, in general, be slower paced and with different posture sequences. Hatha Yoga adjusts the Sun (Pingala Nadi) and Moon energy (Ida Nadi) inside the body to balance it and changes the lower chakra energies to more elevated levels. Each posture in Hatha Yoga ought to be polished with mindfulness, keeping in mind the body's limits.
200 Hour Yoga Teacher Training Course Packages
First day of the training is Arrival day and last day of the training is departure day. It is advised to arrive one day before the training to get recover from the traveling and settleing in the palce.
| | |
| --- | --- |
| TTC Dates 2022 | Availability |
| 19 September – 10 October 2022 | |
| 12 October – 02 November 2022 | |
| 05 November – 26 November 2022 | |
| 30 November – 21 December 2022 | |
| 10 January – 31 January 2023 | |
| 04 February – 25 February 2023 | |
| 01 March – 22 March 2023 | |
| 25 March – 15 April 2023 | |
All Package includes:
Pick up from Goa airport or train station in Goa
22 Nights accommodation, wifi
3 Vegan meals a day (excludes Saturday dinner and Sunday meals)
Pre-reading material after booking the course
Yoga Teacher Training Manual
Yoga mat and props provided
200 hrs Oceanic Yoga Certificate Yoga Alliance accredited
Package Without Accommodation € 900. Fees Include: Breakfast (Mon- Sat), Course Manual, Yoga Meditation Music, Oceanic Yoga Certificate.
Yoga Teacher Training Goa India Daily Schedule
| | |
| --- | --- |
| Time  | Schedule |
| 7:00 am to 9:00 am | Asana Practice and Teaching Asanas |
| 9:00 am to 09:40 am | Breakfast |
| 10:00 am – 10:30 am | Karma Yoga |
| 10:30 am to 12:00 pm | Yoga Philosophy/ Patanjali's Yoga Sutras |
| 12:00 pm to 1:00 pm | Meditation/ Yoga Nidra / Yoga Theory |
| 1:00 pm to 1:40 pm | Lunch Break |
| 2:30 pm to 4:00 pm | Anatomy/Physiology/electives |
| 4:15 pm to 5:30 pm | Asana practice/teaching asanas/Adjustment & Alignment |
| 6:30 pm to 7:10 pm | Dinner |
Note: Saturday Half-day, Sunday Off. It is a sample Schedule, Subjects Change every week.
Suryanamaskar: You will Warm-up your body with simple movements and Suryanamaskar before doing the asanas. It warms up fundamental components of the body, which includes muscle, organ, and tissue.
Standing Poses:Standing poses are meant to provide you with strength and confidence while providing balance to your body. These help in Alignment as well.
Sitting Poses, Forward Bends, and Hip Openers:These asanas are designed to open up your joints and provide flexibility to your body while increasing strength and tolerance. In addition, these Asanas highly impact your body postures and internal organs.
Sitting Twists Poses:The twist asanas are fundamentally designed for the benefit of your spine. These asanas impact the whole framework of the body.
Back Bends and Hand-Balancing:Challenge your shoulders, legs, and back with backbend asanas, as your body needs them for performing hand balances. These poses aim to increase the strength of your shoulders, legs and hands so that they are capable of lifting the body as and when required.
Prostrate and Restorative Asanas:Improve your back flexibility, and increase adaptability with this asana. These postures give serenity and relaxation to the whole body, and stances can be held long-term with no stress.
Introduction to the History of Yoga, Different paths of Yoga:Understand yoga history with our best yoga teacher training program in India. Knowing the beginning of yoga is pretty much as significant as rehearsing it. The point is to understand the benefits of living the Yogic way of life.
Yoga Sutras of Patanjali:Yogsutras are separated into four parts: Samadhipada, Vibhutipada, Sadhanapada, and Kaivalyapada. Patanjali was the one who presented yoga postures in a volume.
Morals for Yoga Teachers:Meditation – Meditation assists with decreasing pressure and brings harmony and a feeling of bliss. Therefore, it is important to learn the correct meditation practice to make the most out of it.
Yogic Lifestyle and Yogic Diet:The food we eat tremendously affects our physical, mental, and passionate states. Thus vegan food is served in the course.
Prologue to Ayurveda for a Healthy Lifestyle:Doshas portray the blend of mental, physical, and passionate highlights. Our body will stay healthy if vatta, pitta, and kapha are well balanced. Comprehend your dosha and adjust a reasonable eating regimen for your dosha.
Life structures: Yoga joins brain and body. A yoga teacher ought to know about the inward functioning of the body to understand the effects of postures. The essential frameworks comprise the skeleton framework, muscle framework, respiratory framework, digestive framework, sensory system, hormonal framework, and immunity framework. Life structures include the study of this load of frameworks to make yoga safe.
Physiology:
Three NadisNadi are nerves in the body. Antiquated Yoga messages say that there are 72,000 nadis in the body; the three most important nadis are Ida, Pingla, and Sushumna Nadi.
Five Kosha's and 5 PranasUnderstand five koshas, particularly annamaya, pranamaya, manomaya, vijnanamaya and anandamaya, and how to get to them with yoga. Likewise, think about the usefulness of 5 Pranas for accomplishing total prosperity.
Seven Chakras and Kundalini Energy – In and out, the flow of subtle energies happens through chakras, as they are energy channels. Learn their location and function, as every chakra has a unique color, bija mantra and animal ruler. Kundalini is a spiritual power at the base of the spine. When kundalini awakens, it passes through the first six chakras and merges into the seventh chakra.
Shatkriyas
Jalenti: It implies cleaning of the nose with water.
Vamana : Purify the upper stomach with Vamana for restoring abdominal health. It helps clogging, gastritis, dyspepsia, incapacitations of the stomach and spleen, mucus and bile problems.
Kapalabhati: Clean your respiratory framework, nasal section, and eliminate fit in bronchial cylinders. Kapalabhati dispenses with blood contaminations through exhalation of carbon dioxide in a critical sum.
Basti: It balances Vata, fixes the lower digestive system, colon, stomach, intestinal issues, gastric issues, rheumatic joint torments and persistent migraines.
Nauli: Stimulate and control your stomach related framework with Nauli. It rubs the entire mid-region and stomach by rolling and contracting muscular strength.
Shankhaprakshalana: Practice this profound cleaning method as it includes synergistic cleaning asanas in succession. It cleans the whole gastrointestinal lot with saltwater.
Yoga as a business: In and out, the progression of energies occurs through chakras, as they are energy channels. Gain proficiency with their area and capacity, as each chakra has an interesting tone, bija mantra and creature ruler. For example, Kundalini is a profound force at the foundation of the spine. When Kundalini stirs, it goes through the initial six chakras and converges into the seventh chakra.