100 Hour Yoga Teacher Training in Goa, India
Welcome to join our 100 hour Yoga Teacher Training course in Goa with oceanic yoga. We offer this course to those who are entirely new to Yoga and don't know where to start as a beginner. This course is designed in a way that, as a beginner, you will be taught about the basics first and then will take you to the higher practices.
After completing 100 Hour Yoga TTC in Goa India, you can upgrade yourself to 200 hour yoga teacher training and can complete the full course within two years with us either on your next trip or maybe in the same month too.
100 Hour Yoga Teacher Training Course Goa
We offer the best yoga teacher training in Goa, India. If you are aspiring towards becoming a Yoga teacher or want to understand Yoga more than Asana, you have come to the right place. It is an advantage to have some experience of Yoga before attending a teacher training course, but we welcome all levels.
Description of significant styles of 100 hour yoga course in Goa as Hatha, Vinyasa, and Yin
Hatha Yoga: Hatha Yoga is an original and traditional Yoga from which all the ancient and modern Yoga styles developed. Hatha Yoga suitable for making the body healthier, stronger, and flexible also it gives deeper understanding and practice for inner growth.
Vinyasa Flow Yoga: Vinyasa Yoga is one of the most trendy yoga styles. It gives power, strength, flexibility, creativity, awareness, and is very friendly for the body and mind. In Vinyasa, we combine the breath with the flow moves to synchronize the breath with poses logically and effectively. Breathing is our primary focus as it gives us a continuous sense of existence, and the whole class feels like a moving meditation.
Yin yoga: This practice is designed to help you sit longer, and more comfortably in meditation by stretching connective tissue around the joints (mainly the knees, pelvis, sacrum, and spine). A passive practice, Yin Yoga, involves variations of seated and supine poses typically held for 3 to 5 minutes, accessing deeper layers of fascia.
100 hour Yoga Teacher Training Course in Goa also includes pranayama, mudras, Bandhas, anatomy, philosophy. In this training, you will study and practice postures with safety, correct alignment, benefits, and precautions.
The practice and study of standing, forward bends, sitting poses, and hip openers, inversions, sitting twists, hand-balancing, back-bends, and Restorative Yoga. Asana practice develops physical health by massaging, stretching, and cleansing the internal organs, and stimulating the energy flow through the entire body.
Students will learn how to make a class sequence for a different level of participants in this 100 hour yoga teacher training in India. The participants will learn all the yoga aspects theoretically and practically
Have only love in your heart for others. The more you see the good in them, the more you will establish good in yourself.  Paramahansa Yogananda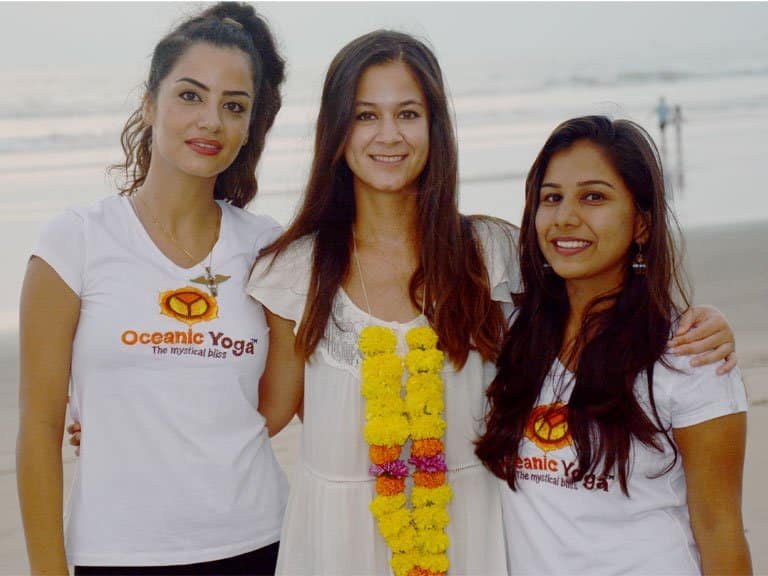 100 Hour Yoga Course -Daily Schedule
| | |
| --- | --- |
| Time  | Schedule |
| 7:00 am to 9:00 am | Asana Practice and Teaching Asanas |
| 9:00 am to 09:40 am | Breakfast |
| 10:00 am – 10:30 am | Karma Yoga |
| 10:30 am to 12:00 pm | Yoga Philosophy/ Patanjali's Yoga Sutras |
| 12:00 pm to 1:00 pm | Meditation/ Yoga Nidra / Yoga Theory |
| 1:00 pm to 1:40 pm | Lunch Break |
| 2:30 pm to 4:00 pm | Anatomy/Physiology/electives |
| 4:15 pm to 5:30 pm | Asana practice/teaching asanas/Adjustment & Alignment |
| 6:30 pm to 7:10 pm | Dinner |
Note: Saturday Half-day, Sunday Off
It is a sample Schedule, Subjects Change every week.
100 Hour Yoga Teacher Training Dates 2019 and 2020
The first day of the training is Arrival day and last day of the training is departure day. It is advised to arrive one day before the training starting day to get recover from traveling and settling in the place.
Private Room
Comfort 3 star Hotel
To get a discount book 2 months in advance. For Private Room Economy and Comfort Room € 100 discount. For Twin Sharing room € 50 discount.
All Package includes:
Pick up from Goa airport or train station in Goa
9 Nights accommodation, wifi
3 Vegan meals a day (Monday-Friday + Saturday Breakfast)
Pre-reading material after booking th ecourse
Yoga Teacher Training Manual
1 Ayurvedic consultation or massage
Yoga and meditation music
Yoga mat and props provided