200 Hour Yoga Teacher Training - Online
Foundation Course to become an internationally Certified Yoga Teacher
200 Hour Yoga Teacher Training - Online

Our online 200-hour Multi Style Yoga Teacher Training Course is an intensive and elaborate program designed to give you the knowledge, skills, and confidence to teach yoga classes based on the Ashtanga Yoga Primary Series and Hatha Yoga with Pranayam and Yoga Philosophy. With a certain commitment of you this will give you not just the knowledge but the skill and confidence for you to become an excellent yoga teacher and the necessary eligibility for the same on a global level. You will also learn about the history of Indian culture and tradition and will be introduced to the traditional Hatha yoga and Ashtanga yoga practices.
Our online yoga teacher training courses are based on the eight limbs of Ashtanga yoga, not just on the Asana practice. We emphasis on yamas, niyamas, pranayama, pratyahara and meditation. This comprehensive curriculum covers Yoga philosophy based on the Patanjali's Yoga Sutras, yogic lifestyle and ethics, yogic diet, anatomy and physiology for yoga teachers and practitioners, among other topics related to the practice of cultivating a balanced life.
The online format has come up because of the persisting demands of many students as they are not able to travel or other commitments to our location. In this you will get access to the dedicatedly recorded instruction videos and live classes.
You will get have opportunity to ask your doubts in pre scheduled live classes as well as dedicated groups with the instructors.

This will help students become a better version of themselves. This course also includes training on how to teach students in a way that helps them develops deep connection with their spiritual aspects.
Are you looking for a profound and deeper transformation or to  reset and re create your life?  Want to understand yoga beyond the mat?  Meeting the higher self within? If these thoughts are crossing in you then you are in the right place.
Do you want to learn yoga from authentic source? We are a group of committed and sincere people with more than 16 years of experience behind us.
Do you want to become a teacher who have the grip over right teaching methodologies, skills, and knowledge to teach? Imbibe the art of teaching and sharing yoga life with other.
200 Hour YTTC - Online :
Course Curriculum
30 classical hatha yoga asanas
Half Primary series of Ashtanga Yoga
Alignments and Adjustments
Modifications and corrections as per individuals
How and when to modify asanas?
Yoga Nidra – Deep relaxation
Pranayamas
Learn to chant Mantras
Bandhas and Purification Kriyas
Meditations
The four paths of yoga
Body systems
Difference between yoga and other physical exercises
Injury prevention and cures
Alignments, adjustments & modifications through the understanding of Anatomy
Yoga and Lifestyle
What is Ayurveda?
Yogic diet
Aim and meaning of yoga
Five principles of yogic practice
Four paths of yoga
Eight limbs of Raja Yoga
Three gunas – sattva, rajas, tamas
Three bodies; physical, astral, spiritual
Working of the mind
Chakras and their relation to systems
History, Origin of Hatha Yoga & other forms of Yoga
Evolution of Hatha yoga tradition.
How Spiritual systems evolved through time
Psychology of a teacher
Correction and guidance techniques
Communication techniques
How to create a proper class environment?
The basic structure of a yoga class
The basic structure of the beginner's course
Ethical Guidelines
Ethical guidelines for a yoga teacher
Different Meditations devised by Osho
Meditations from the tradition Budha
Cyclic Meditation, Yog Nidra
Mediation inspired by George Gurdjieff
Mantra Chanting and breathing meditations.

Note: – Choice of meditations vary based on group energy.
The Course will be a combination of dedicatedly pre recorded video instruction and guidance.
Live classes are available only during the scheduled dates.

Recording of the live sessions for those who are not able to attend the live sessions.( Kindly note that this recording will be available only for a period of maximum 30 days).

Many pre-recorded theory and practical classes, and recordings of previous Q&A sessions.
Yoga Teacher Training manual with all the content of the course.
Ashtanga Primary Series sheets with the Sanskrit names.
Hatha Yoga asanas sheet with Sanskrit names.
Anatomy presentations.
Other notes and documents to support the learning process.
You will be granted access to the online 200-hour yoga teacher training course within a few days days from the day you enrol in the course. This will allow you to start learning right away.
You will have lifetime access to all the course material including the yoga teacher training manual, pre-recorded classes, and recordings of the live sessions.
You can study at your own rhythm and pace.
Although you will have lifetime access to the 200-hr Multi Style yoga teacher training course, you should try to finish the course within an year from the date you sign up. If you fail to complete your certification within one year for any reasons you can always request for free extension.
You can clarify your doubts during the live Q&A sessions or leave them in the comment section of the respective lectures in the online platform. The teachers will try to reply them as soon as they can.
The videos can be watched only on the e-learning platform.
Upcoming Online - 200 Hour Yoga Teacher Training (2023-2024)
| Start Date | End Date | Room Per 2 Share | Private Room | |
| --- | --- | --- | --- | --- |
| 5 Sep 2023 | 26 Sep 2023 | € 1,495 | € 2,040 | Apply Now |
| 28 Sep 2023 | 19 Oct 2023 | € 1,495 | € 2,040 | Apply Now |
| 21 Oct 2023 | 11 Nov 2023 | € 1,495 | € 2,040 | Apply Now |
| 13 Nov 2023 | 04 Dec 2023 | € 1,495 | € 2,040 | Apply Now |
| 6 Dec 2023 | 27 Dec 2023 | € 1,495 | € 2,040 | Apply Now |
| 3 Jan 2024 | 24 Jan 2024 | € 1,495 | € 2,040 | Apply Now |
| 26 Jan 2024 | 16 Feb 2024 | € 1,495 | € 2,040 | Apply Now |
| 18 Feb 2024 | 10 Mar 2024 | € 1,495 | € 2,040 | Apply Now |
| 12 Mar 2024 | 02 Apr 2024 | € 1,495 | € 2,040 | Apply Now |
| 04 Apr 2024 | 25 Apr 2024 | € 1,495 | € 2,040 | Apply Now |
| 27 Apr 2024 | 18 May 2024 | € 1,495 | € 2,040 | Apply Now |
| 20 May 2024 | 10 Jun 2024 | € 1,495 | € 2,040 | Apply Now |
Live classes
Recorded video Instructions
Certificate of completion
We guarantee that if you are committed enough to complete this course that is designed and structured by Oceanic Yoga International, you will get proven accurate knowledge. Your life will be transformed in leaps and bounds.
Worldwide Accredited Certification
With our certificate, you will be qualified to teach yoga worldwide. We are accredited with Yoga Alliance USA and this certificate will enable you to register yourself with Yoga Alliance USA. You can start teaching yoga globally once you complete your 200 hour Yoga Teacher Training.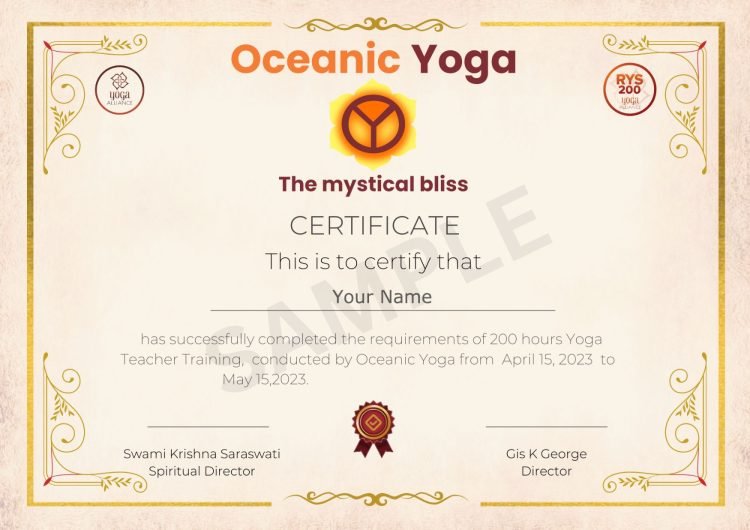 Become an Internationally Certified Yoga Teacher
Once you complete the course and assessment we will award and recognize you with certificate and you will be qualified to teach yoga worldwide. You can become a member with yoga alliance by registering yourself in their website. The registration process is self explanatory and we will guide you through the process.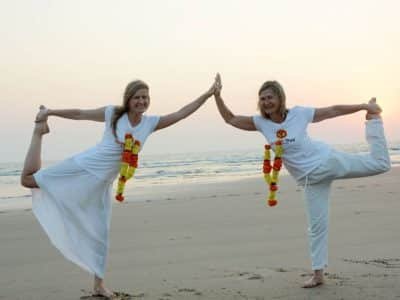 Eligibility To Participate In 200 Hour Yoga Online TTC
Most frequent questions and answers