Meditation & Dhyan Nidra Teacher Training Course
A Meditation & Dhyan Nidra Teacher Training Course (MTTC) in India in Goa to become a teacher.
Meditation & Dhyan Nidra Teacher Training Course

This is a Teacher Training Course that is designed to give you experience of various methods, learn them and develop skillset to teach them to others.
This is a certified course that is registered with Meditations Alliance and gives the students the option to register themselves after completion of the course and create a profile on the portal.
In this Meditation TTC, you will learn multiple style of passive, dynamic meditations and Dhyan Nidra with their philosophy and reasoning and gain skills to teach them in your own class, in a retreat, with yoga lessons and any other setup where there is an opportunity for people to participate and practice.
The course is based on the principals of Authenticity, Actuality and Simplicity. We seek the true experience and discard the Drama.
Ours Meditation Teacher Training is a program that is taking you steps ahead to be a Meditation Mentor, Meditation Master and Meditation Therapist.
This training is not just a learning program but also a jump to an uplifted life transformation.
The course consists of guided Energy meditations, practice, lectures, explanations, discussions and Q&A Sessions.
You will be getting to learn these Meditations with steps to acquire the skills, knowledge, experience and insight allowing you to successfully share them with others.
The Meditations that you will learn can be part of you daily life. They help to retain the meditative stage throughout your daily life and keep you sharp, balanced, joyful and serene plus continue to enhance and grow your being.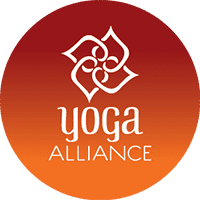 Oceanic Yoga School in India
Affiliated by the Yoga Alliance, USA
The natural view from the Oceanic Yoga Ashram is simply breath-taking. Our ashram is  just ten minutes away from Morjim beach and is located on a hillock overlooking Arabian Sea. It is also home to a variety of birds. You will have a wonderful swimming pool from where you can watch the sun setting in the Ocean and it is one of the most beautiful view point for sunset in the entire Goa. The location is blessed with lush green nature where you can find lots of fruit bearing trees like mangos, guava, chikkus (Sapodilla Plums), coconuts, mangosteen, cashew nuts ,date palms,banyan trees, bananas and many more.
Some of our students describe the place as " The Himalayas of Goa" as it holds the silence and serenity of the Himalayas  and it is secluded but safe, just 10 minutes away from the beach.
Oceanic Yoga School is rated as one of the best places for Yoga Teachers Training and Yoga & Ayurveda Retreats in India. Here you will get all the support systems, techniques, knowledge, and guidance that you may need to become a confident and knowledgeable Yoga Teacher. The cottages are simply marvelous and are airconditioned. It has a balcony and many of our cottages provides view of Arabian Sea.
The food is vegetarian or vegan on demand. Ashram offers wellness activities and Ayurvedic treatments, Hydro therapy and rejuvenation therapies. This is an ideal place for spiritual seekers to explore the traditional Ayurveda and Yoga in India.
Are you looking for a profound and deeper transformation with in you? Want to take yoga beyond the mat? A life style change? Meeting the higher self within? If these thoughts are crossing in you then you are in the right place.
Do you want to learn yoga from authentic source? We are a group of committed and sincere people with more than 16 years of experience behind what we are offering
Highlights of Our Meditation Teacher Training:
Overview
"To learn Meditation, you don't need to be anything else other then what you already are"
You will learn 4 passive meditations and 4 active movement-based meditations.
Along with mediations you will also practice and learn the art of Dhyan Nidra and skill to guide others into it. This is one practice that can be conducted even with dozens or even hundreds of persons present in front of you.
You will be given lectures on understanding the concept of each meditation and have guided sessions of each form.
During the 8 days you will practice the meditations and, on the 9th day you will practice to lead them.
You will be provided the notes and text in relation to each meditation and method you will learn.
You will get the possibility to have the recorded audio of the lectures and sharing from the training.
Learning the art of Vocal reach, communication skills and right wordings to bring the results in your students.
After the completion of the course you will receive a certification.
You will be able to register to Meditationsalliance and create a page of individual page of you as a Meditation Teacher.
What Meditations you will learn during the Course?
"To learn Meditation, you don't need to be anything else other then what you already are"
Some of the Meditations that you will learn as a personal enhancement and be able to teach them.
Vipassana Meditation: The meditation to be able to enhance once awareness and be mindful to the moment.
Dhyan Nidra. A powerful method ofguding others to the very inner core of the being, settling there, relaxing and settling into deep conscious healing sleep. This method also helps in subtly releasing the emotional blocks, traumas and of course takes away much of the stress accumulated inside.
Urjapat: A method of gathering uplifting energies, creating a circle of them and showering upon others.
Spandan Meditation: A shaking and vibration meditation to release the fears, traumas, emotional holdings, psychological patterns, characteristic holdings to feel lighter, easier and flowing.
Chakra Sound Meditation: Working on all the seven chakras with humming the sounds corresponding to them and reenergizing them.
Tandra Mediation: A powerful meditation to take away the complexities, un burden the self, release the emotions of anger, aggravation, irritation, frustrations, repressions, unexpressed feelings and pains.
Third Eye meditation: Third eye Activation meditation to stimulate and awaken this center of power, attainment and self enhancement.
Energy in the original stateless form is the driving force of this Universe. In Indian Vedic concepts there are three forms (Tri Gunas-Qualities) of Energies. The Energy of Creation (Brahma/Satva), the energy of Sustaining (Vishnu/Rajas) and the Energy of Transformation (Shiva/Tamas). In this course you will get to understand these forms of Energies and learn various kinds of Powerful, Life Transforming meditations that will not only take you towards yourself but also shift and uplift your conscious level from the current chained state that holds you down and does not allow your wings to spread far and wide.
The course is progressive. That means first you learn the basic steps and then progress to higher forms of the techniques. This allows you to climb the steps of conscious development and gather the illumination within yourself that is ready then to enlighten others. Basically, you learn not only to light your own candle but also to inflame other candles by your own flame.
Eligibility To Participate In The Meditation Teacher Training
Meditation Teacher Training
Upcoming Meditation Teacher Training in Goa (2023-2024)
| Start Date | End Date | Location | Pricing | |
| --- | --- | --- | --- | --- |
| 12 Sep 2023 | 20 Sep 2023 | Goa | ₹ 39,500 | Apply Now |
| 12 Oct 2023 | 20 Oct 2023 | Goa | ₹ 39,500 | Apply Now |
| 12 Nov 2023 | 20 Nov 2023 | Goa | ₹ 39,500 | Apply Now |
| 12 Dec 2023 | 20 Dec 2023 | Goa | ₹ 39,500 | Apply Now |
| 12 Jan 2024 | 20 Jan 2024 | Goa | ₹ 39,500 | Apply Now |
| 12 Feb 2024 | 20 Feb 2024 | Goa | ₹ 39,500 | Apply Now |
| 12 Mar 2024 | 20 Mar 2024 | Goa | ₹ 39,500 | Apply Now |
Note: The schedule mentioned above is a sample and can change on a batch-to-batch basis.
Airport Transfer from Goa Dabolim Airport or North Goa- Mopa Airport ( Charges 30 USD)
Accommodation for those opted for the same
3 Vegetarian meals a day who are opting stay with Oceanic Yoga International
Breakfast & Lunch for non residential participants (Breakfast from second day onwards)
Study materials will be provided at the beginning of the course
Certificate
One of the oldest Yoga School in Goa
Oceanic Yoga started its foundation in Goa in 2007, India. Many experienced Yoga practitioners and beautiful souls were drawn to the Ashram and joined Oceanic Yoga's teaching team, and shared their knowledge with the best.  More than 2500 students graduated through us.
Oceanic Yoga is a Registered Yoga School in Goa by Yoga Alliance, and our teachers are experienced and qualified to teach Yoga Teacher Training Courses and Yoga Retreats. Oceanic Yoga school helps students to learn, transform, and spread their love and light to the world.
Awareness, yoga, meditation, harmony, peace, and self-transformation are the qualities we uphold for the school and for our Yoga Teacher Training Students. The school professes that teaching yoga and meditation goes beyond just being a job or business, but rather a way of living. Teaching yoga is another way to instil one's own yoga and meditation practice regularly. Yoga teacher training program is to deepen your learning and teaching abilities and developing yourself as a more rounded and grounded teacher and person. We can embrace the fact that we are both the student and teacher at the same time. To be a teacher is a great responsibility and necessity to our world that need great teacher more than ever. Millions of people are groping in the dark and suffering with psychological and emotional challenges, unaware of the opportunity that yoga and meditation practices bring to focus life perspectives towards the positive. Now, the world is going through critical time where intense vibrations seem to overwhelm our potential inner calm. Through the practice of yoga, we can become the eye in the storm and dedicate our attention, intention and focus to resonate with positivity within us and let it spread unconditionally to those that come to us to learn, take refuge or be inspired.
Oceanic Yoga School is an experienced yoga school providing professional yoga education since 2007 in the traditional systems of Ashtanga and Hatha Yoga. We have the best and ideal Yoga Ashram in North Goa for anyone who want to experience the beauty and luxury of nature along with Yoga, Mediation, Ayurvedic Massage, Swimming Pool with Ocean view and delicious and variety of vegetarian Indian dishes without the hotness of chilies. 🌶️
2500+ Yoga Teachers Certified
Over 2500 students got trained through us since 2007 and thus gained proficiency in designing impactful courses and how to deliver it to the aspirants in the perfect way and format. Many of our students are running yoga studios successfully in their own countries.
Oceanic Yoga School in Goa is located on a small hillock overlooking Arabian Sea with a swimming pool having a feeling of infinite sky and ocean meeting each other. The cottages are with balconies and are air-conditioned whole property is surrounded by   lots of trees and still just 10 minutes from the beach.
Authentic, Committed, and Sincere
Yoga Teachers and Meditators
We are a small group of people who are committed their life for self-growth and yoga and we believe that spreading yoga and meditation is one of the best things we can do in the world to participate in collective consciousness upliftment.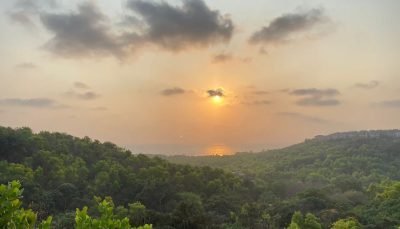 Oceanic Yoga Ashram India Goa
A registered Yoga school (RYS) in India is an opportunity to learn about the ancient practice of Yoga and its many benefits. One of the most beautiful places to train to be a Yoga teacher in India is Goa. The state is famous for its bohemian vibe, reflected in the Oceanic Yoga Center, where a 200-hour Yoga TTC can be completed. Expert gurus guide students on their way through the instructive path. Most programs are conducted at our ashram which is surrounded by fascinating landscapes and natural beauty. It is an ideal location away from the city and stressful modern life.
The natural view from the Oceanic Yoga Center is simply breathtaking.
The training for yoga teacher Goa is located in a beautiful location, just ten minutes away from Morjim beach.
It is also home to a variety of birds. So the best yoga teacher training India is the perfect place for you to practice Yoga and live a healthy lifestyle.
Oceanic Yoga Center is rated as one of the best places for Yoga Teachers Training and Yoga & Ayurveda Retreats in India. Here you get all the amenities you need to train to become a Yoga teacher. With eco-friendly rooms and healthy vegetarian food, this is an ideal place for spiritual seekers to explore the traditional Ayurveda and Yoga in India. The food is vegetarian or vegan (on demand).
Read What Our Students Are Saying
Choose Meditation Teacher Training Package
Includes breakfast (from the Second day)/lunch every day of the course
Most frequent questions and answers