Yoga Teacher Training in Goa: Teach, Inspire, Transform
About Oceanic Yoga International School (RYS 200, RYS 300)
Oceanic Yoga International established in 2007, is a registered yoga school in Goa (RYS 200,RYS 300). We provide opportunities to learn about the ancient practice of Yoga and Meditation in its most authentic and practical form.
We offer yoga teacher training in Goa, India, a foundational course, 200 hour yoga teacher training, which is the basic certification course needed to start your teaching career and  300 hour Advanced yoga teacher training, which is for deepening your practice and  developing teaching skills to the next level. Our teaching methodologies are very effective and have been praised by many students over the past 16 years.
It makes us feel proud that many of our students have become successful teachers and studio owners across globe. Growing deeper in meditation and establishing into silence is a natural outcome of anyone who spends their time with us.
Our retreats and meditation programs are oriented towards detoxifying your body-mind, imparting emotional healing, bringing diet consciousness and yogic lifestyle. All trainings and retreats are complete in nature as they are designed and scheduled with wisdom from the experience of yogis and meditators. It supports you like a catalyst and prepare you for a quantum leap to your own self.
All our programs are conducted at our ashram in Morjim, Goa (completely dedicated for yoga and meditation only) which is surrounded by fascinating landscapes and natural beauty.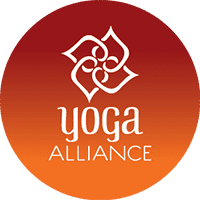 Oceanic Yoga Teacher Training School in Goa
(RYS 200,RYS 300) Affiliated by the Yoga Alliance, USA
The natural view from the Oceanic Yoga Ashram is simply breathtaking. Our ashram is just ten minutes away from Morjim beach and is located on a hillock overlooking Arabian Sea. It is also home to a variety of birds of all colors, squirrels and peacocks. You will have a wonderful swimming pool from where you can watch the sun setting in the Ocean and it is one of the most beautiful view point for sunset in the entire Goa. The location is blessed with lush green nature where you can find lots of fruit bearing trees like mangos, guava, chikkus (Sapodilla Plums), coconuts, mangosteen, cashew nuts, date palms, banyan trees, bananas and many more.
Some of our students describe the place as "The Himalayas of Goa" as it holds the silence and serenity of the Himalayas  and it is secluded but safe, just 10 minutes away from the beach.
Our Yoga teacher training in Goa is rated as one of the best places for Yoga Teacher Training and Yoga & Ayurveda retreats in Goa, India. Here you will get all the support systems, techniques, knowledge, and guidance that you may need to become a confident and knowledgeable yoga teacher. The cottages are simply marvelous and are airconditioned. It has a balcony and many of our cottages provides view of Arabian Sea.
The food is vegetarian or vegan on demand. Our ashram offers wellness activities and Ayurvedic treatments, Hydrotherapy and rejuvenation therapies. This is an ideal place for spiritual seekers to explore the traditional Ayurveda and Yoga Teacher Training in Mandrem.
Sanctuary for Yoga, Meditation & Ayurvedic Wellness Holiday
Oceanic Yoga International, Goa is a perfect place for Yoga Meditation holidays and different wellness programs. There are different therapeutic and general wellness programs happens often. Some of them are Emotional Detox, Naturopathy, Ayurvedic massages, different healing meditations. Apart from these we also have Meditation Teacher Training, Ayur Yogic Massage  Therapist Training, Ayur Balance Massage Therapist Training. Yoga and Meditation retreats are highly sought program along with different Teacher (Trainings.300 Hour YTTC,200 Hour YTTC, 100 Hour YTTC). 
In our Yoga TTC we use Multi Style Approach that enables you to explore a variety of yoga styles such as Hatha, Ashtanga, Vinyasa, Yin yoga and Restorative yoga. You will be learning Meditations, Teaching Methodologies, Pranayama, Mantra Chanting, Kriya, Alignment and Adjustments, Yoga Philosophy and Anatomy as well.
Oceanic yoga's teacher training school in Goa (RYS 200,RYS 300) will guide you the best ways to practice Yoga, how to teach it effectively, and how to make it a career. Here you will have the chance to learn about yogic cleansing techniques and the many different types of meditations, Lineages of Yoga, Healing techniques, Emotional healing process, Body Detoxifications, Yogic lifestyle, Ayurvedic approach on food and diet etc. You'll be guided by experienced and registered yoga teachers ready to share their knowledge with you.  
The training program consists of studying the sanskrit names and  practicing Yoga Asanas, teaching to your fellow colleagues to gather confidence in leading a Yoga session by your own. Upon completion of the course, graduates will receive a certificate and you can become an Registered Yoga Teacher (RYT) with Yoga Alliance by registering on https://www.yogaalliance.org and uploading the certificate provided by us after the successful completion of your 200 hour or 300 hour yoga teacher training  in Arambol.
Become a Globally Certified Yoga Instructor
Yoga Teacher Training Courses in Goa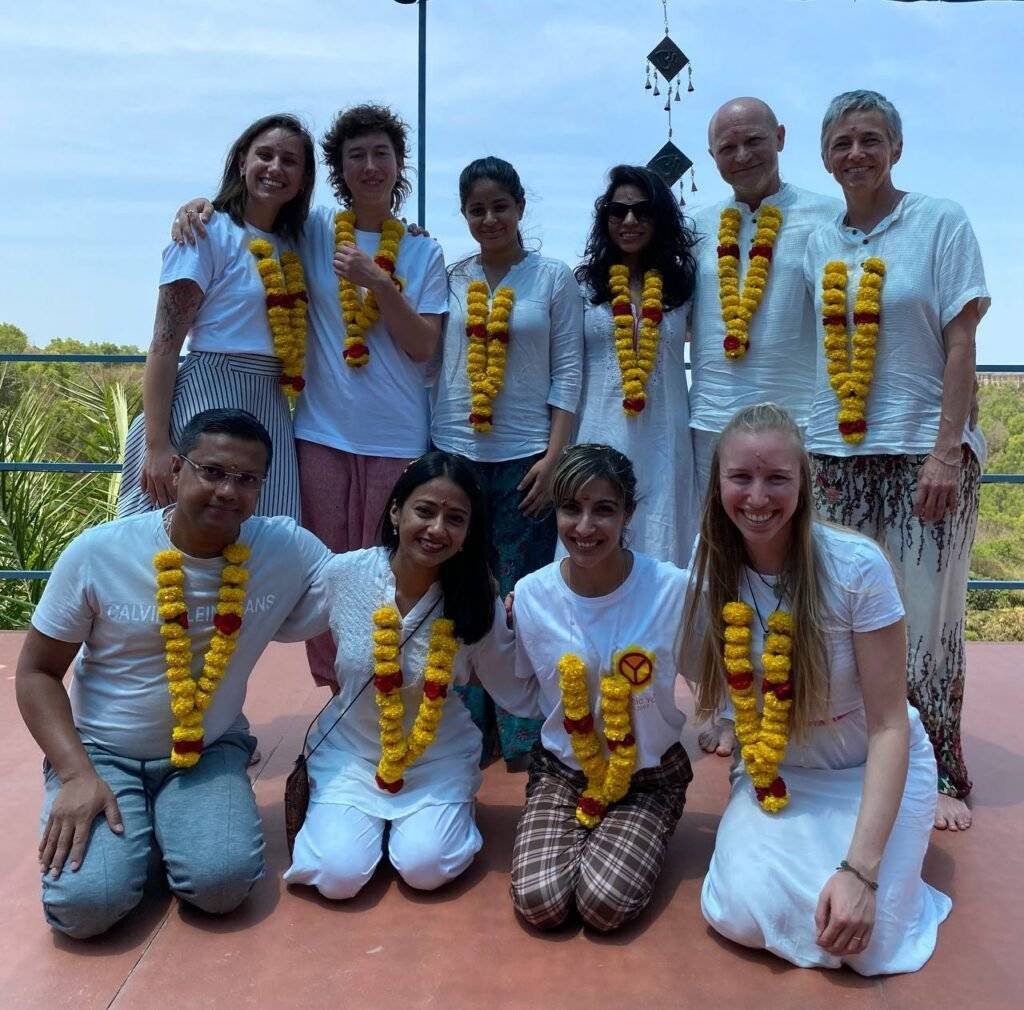 200 hour Yoga teacher training in Goa
A 200-hour Yoga Teacher Training course in Goa offers various skills and certifications. The course is ideal for beginners and intermediate practitioners and focuses on the health and spiritual aspects of Yoga. This course is recognized by the Yoga Alliance and includes all the tools a teacher needs to build a strong foundation and develop their unique teaching style.
The Yoga Course is divided into multiple modules like Yoga Asanaa, Anatomy & Physiology, Yoga Philosophy
Teaching Methodologies & Techniques, Meditations
Emotional Detox & Naturopathy. Each module is designed to build on the knowledge of the previous modules which provide knowledge, experience and healing. It begins with morning yoga sessions, allowing trainees to better self-practice their asanas and teach them to their students. The course then involves completing many hours of yoga teaching practice with small groups of four or five students. Each trainee must teach two yoga classes if not more during the training.
The course is typically held in morjim Goa, India, focusing on the Hatha, Ashtanga Vinyasa tradition near by Mapusa.
300 hour Advanced Yoga Teacher Training
When you enroll for an advanced yoga teacher training in Goa, you will learn more than the basics of Yoga. You'll  learn about the different bandhas and how to awaken hidden energy through movement. Advanced Yoga Teacher Training Course is also referred as 300 hour yoga teacher training course in Mapusa Goa.
This course will teach you about the various components of Yoga and how to share them with your students. It will also help you develop a yogic lifestyle. The course is grounded in the philosophical and historical origins of Yoga. You'll learn the anatomy and physiology of the body, Teaching Methodologies, Advanced Yoga poses, pranayama and much more. In addition to teaching advanced yoga asanas, this course include applied anatomy, yoga philosophy, and meditation. We follow the standards set by the Yoga Alliance USA.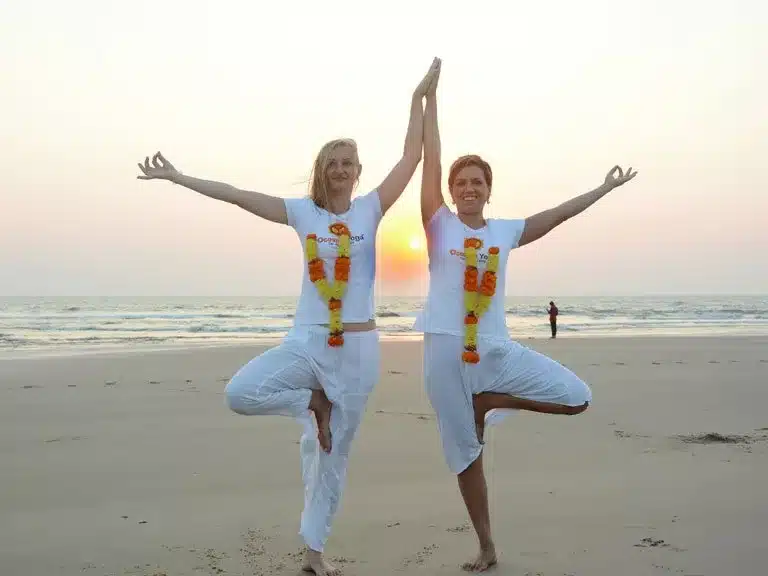 100 Hour Yoga Teacher Training
To become a yoga teacher, enroll in a yoga teacher training course in Goa at Oceanic Yoga Training School in Goa, India. During the training, trainees experience life in a community of yogis.The yoga teacher training in person at oceanic yoga school in Goa, provides a solid foundation for yoga practice. With yoga teacher training in Goa, you will comprehensively understand Yoga, asana, anatomy, and yogic philosophy. The courses are designed for students who are both physically and mentally fit. Today, anyone can participate in this training, including students with no previous experience.Participants in this course can  enjoy early morning yoga classes in in Ashwem Goa and the chance to sit in nature.
A 100-hour yoga teacher training course in Goa will teach you all the basics of Yoga and introduce you to more advanced aspects. Beyond the basics of yoga postures, you will learn about the history and philosophy of Yoga. During the training, you will also learn about the importance of cleansing techniques.
Daily Yoga Drop-in Goa and Day Programs
Oceanic Yoga School welcomes you to join our daily drop-in yoga classes near north goa. Walking in yoga classes can be a great way to start your day. Daily yoga can help you develop strength, flexibility, and endurance.
Ashtanga Yoga, Vinyasa Flow, Hatha Yoga, Alignment and Adjustments
Ayur Massage
Guided Healing Meditations, Chanting, Yoga Nidra, Satsang, Restorative Yoga
Adhoc workshops and programs will vary throughout the season : Asana techniques, Conscious breathwork, Sound healing etc.

NB :- Please enquire for Day Program
General Day Program will have 1 drop in yoga classes, 1 meditation, 1 Massage, Breakfast, Veg buffet lunch, Herbal tea, Access to Infinity Swimming Pool and Wi Fi
NB :- Payment options for our 'drop-in' guests that stay outside of Oceanic Yoga International Campus:
Drop-in Yoga Class    –   500 INR
7-Class Pass    –   3000 INR
14-Class Pass    –   5500 INR
Evening Activities    –  Varies on Programs Happening .All are welcome
Workshops    –   Prices vary
All classes, activities and workshops are FREE to our Yoga Holiday guests.
Please call to Oceanic Yoga International Goa or whats app to +91-9368469447 and book your space. You Also can use the "schedule" or " apply now" option. Please come at least t 15 minutes before the class.

Read What Our Students Are Saying
Oceanic Yoga School is Registered Yoga Schools (RYS 200, RYS 300) with Yoga Alliance USA.
What's happening on our Instagram
Get latest articles, yoga literatures and exclusive discounts directly into your mailbox