Learn a Restorative Therapeutic Massage
A course to learn the interesting art of Bio-Mobilization, Yin Yoga Based, Myo Release bodywork and massage.
Learn a Restorative Therapeutic Massage
You are welcome to attend our Ayur Yogic Massage Training This is a massage that combines the use of sequenced, firm and effective massage strokes, Joint-Mobilization and Yogic Myo Release to the different areas of the body. The areas of tension, stress and holdings are identified and special work with fingers, hands and fist are carried out to release and relieve. The beauty and the uniqueness of this bodywork is that further opening massage strokes are applied to the receiver while the muscles and tissues are under a expansion based stretch. This opens and expands the Myo segments further. We focus a lot on the endings of tendons, the area where the maximum tension is stored and maximum stress is accumulated. This massage is not only relaxing and rejuvenating but also a therapeutic transforming bodywork. Another advantage of this massage is that you don't need a massage table. You can do at home, at spa, at massage centers or any place that you travel to by just using a simple massage mattress or any mattress.
This Massage contains the following massage sequence:
Long Lengthening Massage Strokes over each segment of the body to open, relax and unwind the length of the muscles.
Supportive movements and stretches to the body at their joints to extend and stretch the tissues even further.
Cross section and short strokes on the stretched areas to take the relaxation, release and expansion of the tissues to even further level.
Our course is an intensive and a very comprehensive learning program that teaches you a therapy that is unparallel to any other non-Table massage.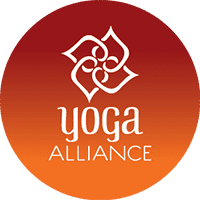 Oceanic Yoga School in India
Affiliated by the Yoga Alliance, USA
The natural view from the Oceanic Yoga Ashram is simply breath-taking. Our ashram is  just ten minutes away from Morjim beach and is located on a hillock overlooking Arabian Sea. It is also home to a variety of birds. You will have a wonderful swimming pool from where you can watch the sun setting in the Ocean and it is one of the most beautiful view point for sunset in the entire Goa. The location is blessed with lush green nature where you can find lots of fruit bearing trees like mangos, guava, chikkus (Sapodilla Plums), coconuts, mangosteen, cashew nuts ,date palms,banyan trees, bananas and many more.
Some of our students describe the place as " The Himalayas of Goa" as it holds the silence and serenity of the Himalayas  and it is secluded but safe, just 10 minutes away from the beach.
Oceanic Yoga School is rated as one of the best places for Yoga Teachers Training and Yoga & Ayurveda Retreats in India. Here you will get all the support systems, techniques, knowledge, and guidance that you may need to become a confident and knowledgeable Yoga Teacher. The cottages are simply marvelous and are airconditioned. It has a balcony and many of our cottages provides view of Arabian Sea.
The food is vegetarian or vegan on demand. Ashram offers wellness activities and Ayurvedic treatments, Hydro therapy and rejuvenation therapies. This is an ideal place for spiritual seekers to explore the traditional Ayurveda and Yoga in India.
Are you looking for a profound and deeper transformation with in you? Want to take yoga beyond the mat? A life style change? Meeting the higher self within? If these thoughts are crossing in you then you are in the right place.
Do you want to learn yoga from authentic source? We are a group of committed and sincere people with more than 16 years of experience behind what we are offering
Do you want to become a teacher who have the right teaching methodologies, skills, and knowledge to teach?
Highlights of the :
Ayur Yoga Massage Training
This is one massage where the session is offered on a mat or a mattress on the floor removing the dependency on a table.
Specialty 1. It's a proper massage. Different segments are massaged with the use of Sesame or Coconut oil. The massage is done using hands, fingers, fist and feet as well.
Specialty 2. With the massage of each segment of the body, a further expansion and opening is provided by giving unique supportive yogic stretches, manipulations and movements.
Specialty 3. Along with giving a stretch to a certain limb, the stretched tissues are further opened by giving massage strokes, mostly to the end of the tendons.
This bodywork session can be offered on the go or in a simple non spa set up.
This massage is also easy to offer from the freedom of your own house. Thereby, you get a big flexibility in sense of working with freedom.
This bodywork is also a further skill development for Yoga teachers who can add services of yoga-based massage session provider for their students. This also allows the students to further open up their bodies and have a profound effect with the practice.
The massage can be given as single session just to remove tensions, tiredness, fatigue and bring relaxation, serenity, easiness and flow of prana (energy) or it can be done as progressive multiple therapeutic sessions to detoxify, clean the body, rejuvenate, recharge, transform and reform the physiology.
The massage is wholesome and complete. A session normally covers the whole body.
History of the
Massage Learn​
This massage comes out of traditional Yoga Massage as taught by Kusum Modak from Pune and combines various techniques from Remedial Sports Massage Movements.
Here we are using the best of the both and created a form that is noninvasive, gentle in approach, immensely effective and possible to be taught in 7 days as a full body massage.
Ayur Yoga Massage Therapist Training Dates and Price
Upcoming Ayur Yoga Massage Therapist Training India Goa (2023-2024)
| Start Date | End Date | Location | Pricing | |
| --- | --- | --- | --- | --- |
| 18 June 2023 | 24 June 2023 | Goa | ₹ 38000 | Apply Now |
| 22 Aug 2024 | 28 Aug 2023 | Goa | ₹ 38000 | Apply Now |
| 22 Sep 2023 | 28 Sep 2023 | Goa | ₹ 38000 | Apply Now |
| 22 Oct 2023 | 28 Oct 2023 | Goa | ₹ 38000 | Apply Now |
| 22 Nov 2023 | 28 Nov 2023 | Goa | ₹ 38000 | Apply Now |
| 22 Dec 2023 | 28 Dec 2023 | Goa | ₹ 38000 | Apply Now |
| 22 Jan 2024 | 28 Jan 2024 | Goa | ₹ 38000 | Apply Now |
| 22 Feb 2024 | 28 Feb 2024 | Goa | ₹ 38000 | Apply Now |
| 22 Mar 2024 | 28 Mar 2024 | Goa | ₹ 38000 | Apply Now |
Note: The schedule mentioned above is a sample and can change on a batch-to-batch basis.
Airport Transfer from Goa Dabolim Airport or North Goa- Mopa Airport ( Charges 30 USD)
Accommodation for those opted for the same
3 Vegetarian meals a day who are opting stay with Oceanic Yoga International and Lunch for non residential students
Study materials will be provided at the beginning of the course
Certificate
One of the oldest Yoga School in Goa
Oceanic Yoga started its foundation in Goa in 2007, India. Many experienced Yoga practitioners and beautiful souls were drawn to the Ashram and joined Oceanic Yoga's teaching team, and shared their knowledge with the best.  More than 2500 students graduated through us.
Oceanic Yoga is a Registered Yoga School in Goa by Yoga Alliance, and our teachers are experienced and qualified to teach Yoga Teacher Training Courses and Yoga Retreats. Oceanic Yoga school helps students to learn, transform, and spread their love and light to the world.
Awareness, yoga, meditation, harmony, peace, and self-transformation are the qualities we uphold for the school and for our Yoga Teacher Training Students. The school professes that teaching yoga and meditation goes beyond just being a job or business, but rather a way of living. Teaching yoga is another way to instil one's own yoga and meditation practice regularly. Yoga teacher training program is to deepen your learning and teaching abilities and developing yourself as a more rounded and grounded teacher and person. We can embrace the fact that we are both the student and teacher at the same time. To be a teacher is a great responsibility and necessity to our world that need great teacher more than ever. Millions of people are groping in the dark and suffering with psychological and emotional challenges, unaware of the opportunity that yoga and meditation practices bring to focus life perspectives towards the positive. Now, the world is going through critical time where intense vibrations seem to overwhelm our potential inner calm. Through the practice of yoga, we can become the eye in the storm and dedicate our attention, intention and focus to resonate with positivity within us and let it spread unconditionally to those that come to us to learn, take refuge or be inspired.
Oceanic Yoga School is an experienced yoga school providing professional yoga education since 2007 in the traditional systems of Ashtanga and Hatha Yoga. We have the best and ideal Yoga Ashram in North Goa for anyone who want to experience the beauty and luxury of nature along with Yoga, Mediation, Ayurvedic Massage, Swimming Pool with Ocean view and delicious and variety of vegetarian Indian dishes without the hotness of chilies. 🌶️
2500+ Yoga Teachers Certified
Over 2500 students got trained through us since 2007 and thus gained proficiency in designing impactful courses and how to deliver it to the aspirants in the perfect way and format. Many of our students are running yoga studios successfully in their own countries.
Oceanic Yoga School in Goa is located on a small hillock overlooking Arabian Sea with a swimming pool having a feeling of infinite sky and ocean meeting each other. The cottages are with balconies and are air-conditioned whole property is surrounded by   lots of trees and still just 10 minutes from the beach.
Authentic, Committed, and Sincere
Yoga Teachers and Meditators
We are a small group of people who are committed their life for self-growth and yoga and we believe that spreading yoga and meditation is one of the best things we can do in the world to participate in collective consciousness upliftment.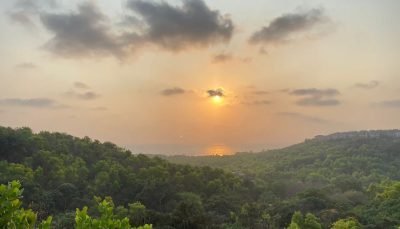 Oceanic Yoga Ashram India Goa
A registered Yoga school (RYS) in India is an opportunity to learn about the ancient practice of Yoga and its many benefits. One of the most beautiful places to train to be a Yoga teacher in India is Goa. The state is famous for its bohemian vibe, reflected in the Oceanic Yoga Center, where a 200-hour Yoga TTC can be completed. Expert gurus guide students on their way through the instructive path. Most programs are conducted at our ashram which is surrounded by fascinating landscapes and natural beauty. It is an ideal location away from the city and stressful modern life.
The natural view from the Oceanic Yoga Center is simply breathtaking.
The training for yoga teacher Goa is located in a beautiful location, just ten minutes away from Morjim beach.
It is also home to a variety of birds. So the best yoga teacher training India is the perfect place for you to practice Yoga and live a healthy lifestyle.
Oceanic Yoga Center is rated as one of the best places for Yoga Teachers Training and Yoga & Ayurveda Retreats in India. Here you get all the amenities you need to train to become a Yoga teacher. With eco-friendly rooms and healthy vegetarian food, this is an ideal place for spiritual seekers to explore the traditional Ayurveda and Yoga in India. The food is vegetarian or vegan (on demand).
Read What Our Students Are Saying
Choose Meditation Teacher Training Package
Includes lunch every day of the course
Most frequent questions and answers