It's a known fact that yoga tunes our body into a better version than before. Yoga is equally known for it's physical practices along with many mental benefits. It is a subtle exercise to relieve from stress, anxiety, depression, and mental trauma. Many people meditate for hours to attain the spiritual enlightenment that yoga possesses. Also, they exercise with different asanas to stay fit and active.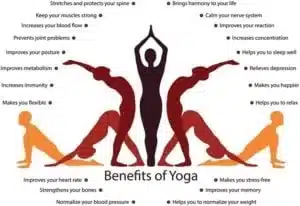 It is undeniable that yoga instructors and yogis who are dedicated to the practice have beautifully shaped bodies.
It's okay to desire to have such curves but one needs to acknowledge the fact that for such transformation, one needs to be consistent with practice. Yoga for women actually helps in weight loss. Though it's challenging, yoga is perfect to calm workout for weight loss goals.
Yoga for women
Many women adore yoga for it's beneficiary factors like better curves, structured body, and developed booty. Many women took the internet by storm during the lockdown by uploading videos about yoga and it's fitness. The curve of yoga practicing surged to it's peak after covid. People actually realized how good is a process of simple meditation and basic postures can energize their body and keeps them active all day.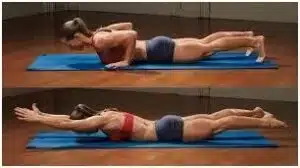 While yoga helps in building physical fitness, it subconsciously helps women to build mental strength too.
In a research conducted by yoga enthusiasts, it is found that women who practice yoga for 60 min avg on a daily basis with both postures and meditation experiences a more balanced lifestyle than others.
Weight loss
Yoga eventually leads us to eat limited and healthy food avoiding over supplements and junk. This helps in better body function and controlled weight loss. For better physical experience yoga studios suggest women to attend yoga sessions like ashtanga (eight limb), vinyasa, or a fusion style. These practices in default accomplish the required body transformation.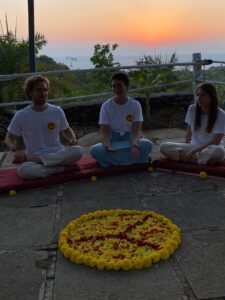 Everything that alters our functional emotions can lead to weight gain. For example, mere stress can also be a cause. Stress and anxiety can increase our hormone cortisol. Cortisol increases abdominal fat and reduces muscle mass. This leads to sugar-rich and high cholesterol cravings which eventually cause obesity.
With yoga, there will be a mindful approach in eating habits. We subconsciously develop to eat vegetables, grains, and lean protein food rather than ice creams, potatoes and flavored foods. All this diet along with practice keeps us healthier and lighter than ever. There's a flow in every sequence of postures. With core engagement and proper flexing, women can mobilize for longer periods. Yin yoga, for example, has a greater effect on
women than men. The energy transformation is subtle yet it is highly effective. Beginners can reciprocate faster in a controlled medium with this yoga.Healthier habits with clear headspace. The primary beneficiary factor with yoga irrespective of men and women would be to feel active all day. However, yoga for female develops healthier habits than men with consistent practice of yoga. There will be an increase in work productivity all day without being lost or feeling anxious and stressed. This sensible approach will halt the guilty trips of women's unhealthy carvings.
Hundreds of scientific studies suggest that women on average experience more mental issues than men. This troubles the physical body in the long run. The real important connection between the mind and body is breathing consciousness. With a clear breath, women are more likely to develop conscious senses that'll align the inner chakras. Exercises like a child's pose will make your breathing easy and allows you to explore with clear thoughts. There'll be an increase in focus and intensity with calmness in every action.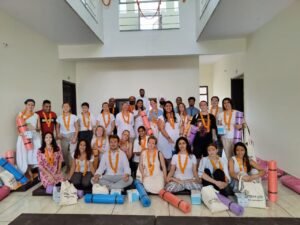 Yoga has a sensual approach for women to feel confident and sexy about their bodies irrespective of size and shape. Yoga studios will spark your senses with aesthetic
music, comfortable accessories, and a calm approach. These will make you indulge deeply in practice.
Yoga enhances the true feminism of women. One great thing that comes with practice is self-acceptance. Everyone is beautiful and sexy inside out. The positivity drives us to explore better than before.Poses like downward dogs, and deep lunges will help in better stretching for women which can be helpful while making love. It makes you fit and flexible enough to stretch your muscles along with your hips and pelvis. Better stretchings bring better s'ex.
Yoga will keep our blood circulation clean. This makes women's skin to be more radiant which is nothing but an absolute 'glow'. With time, there'll be an enhancement in beautiness. How cool would it be to become hot and glamorous without spending a penny on beauty products? I guess you know the answer.
Yoga teacher training centers
Yoga has many forms but each has its respective postures and asanas that'll help us in progression both physically and mentally. Being the capital of yoga, India has many reputed and sincere yoga studios which are dedicated to teaching many styles and formats of yoga. Goa and Rishikesh are popular in yoga teacher training programs providing accredited yoga certificates. Studios are famous for their honest approach in yoga postures and philosophy.
Some of the best yoga teacher training centers are:
Himalayan yoga institute
Located in the central UK, this is one of the finest institutes for yoga teacher training programs. With its world-class facilities and certified female tutors, the programs are designed in many formats according to individual perceptions.
Oceanic yoga
Goa is one of the popular places for yoga teacher training programs and this is known for its obvious reasons. Since 2007, they developed a culture within the studio that can be adapted by any beginner. With a blend of modern yoga with ancient one, this studio has its authenticity in teaching and performing many yoga activities.
Isha yoga center
The name Sadhguru says it all. One of the pioneers who scaled Indian culture worldwide. The yoga center under his eye is located at Coimbatore in India. This is widely known across India for its literary and philosophical teachings along with yoga practice.