Yoga - Meditation and Self Healing Holiday Retreat
Emotional Detox, a Foundation For a Balanced Life.
Body Detox Yoga Retreat With Naturopathy
Whether it is for weight loss, to heal from a chronic disease, or to improve your overall health, a body detox retreat with naturopathy can be a very effective solution. This intensive detox program includes group and individual health consultations, a personalized diet plan, a detox massage, detox wraps, and detoxifying treatments. The benefits of this type of detoxification therapy include weight loss, an improved immune system, and enhanced mental clarity.
The MASTER CLEANSE(TM) detox retreat combines traditional naturopathic principles with modern cleansing techniques. It includes a series of treatments that assist the body in cleansing itself of emotional imbalances, hormonal imbalances, and digestive issues. It also re-sets the internal organs and systems.
The Naturopathy detox and Yoga Retreat retreat in India offers detoxifying treatments and a personalized diet plan. It includes healthy cooking classes, daily fresh juices, and abdominal massages. It is ideal for anyone seeking a medical spa holiday. It also offers complimentary talks and fitness classes. The retreat includes a personal health consultation, toxin-cleansing exercises, and a post-treatment health plan. It also provides complimentary yoga classes, spa treatments, and nutritional consultations.
Naturopathy and Yoga Detox:
Highlights
Using the principles of yoga and naturopathy, a naturopathy and yoga detox retreat can be a great way to rejuvenate. A naturopathy expert can provide customized treatments based on the guest's needs. The program focuses on detoxification and emotional blockages. Stress and emotional knots can lead to health complications such as physical ailments, mental disorders, and body aches. Using the techniques of naturopathy and yoga, the guest can learn how to get rid of emotional blockages.
The detox retreats offered by Oceanic Yoga include a wide range of therapies. These include detoxification, Asana, and Shatkriya. They also teach participants how to maintain a healthy diet and practice meditation. These retreats can help people improve their weight loss and energy levels. 
The detoxification program targets the spiritual, mental, and physical planes. Through yoga postures and meditation, the naturopathy and yoga detox retreat will guide the guests to release their emotional blockages. 
The detox diet menu focuses on Sathwik and eliminative foods. These meals leave the body feeling lighter and less tense. The diet includes steamed vegetables, vegetable juices, and salads. The menu will also provide herbal tea. 
The program offers yoga and naturopathy treatments, Yoga classes, Kriya, Pranayama, Mantra chanting, Naturopathic healing techniques, One Massage and Meditation sessions. Additional massage can be booked separately.


Access to Wifi and Infinity Swimming Pool.
Benefits of
Naturopathy Detox and Yoga Retreats
During a Naturopathy detox and yoga retreat, you'll experience various benefits from the holistic approach to healing. Naturopathy is an ancient Indian healing art that promotes optimal health and wellness. It combines multiple therapies, including exercise, diet, and meditation.
It also stimulates the body's self-healing capabilities, which can help fight common ailments. Naturopathy can also boost your mood, energy levels, and outlook. It also encourages a disciplined daily routine and an active lifestyle.
Detox and yoga retreats are a great way to introduce healthy lifestyle changes. This also offers you a chance to meet like-minded people. They can teach you about the benefits of Naturopathy and provide you with the tools you need to help yourself. You'll also learn about the most effective detoxification technique. Practicing the correct form of fasting is an effective way to flush out toxins from your body. 
You'll also be able to learn about the benefits of Naturopathy and how it can help you maintain optimal health and wellness for the long term. You'll also learn about how to prevent future health problems. You'll also learn how to rid yourself of emotional blockages, which can lead to the malfunctioning of your organs. You'll also learn about the importance of a good self-image and ways to enhance your relationships.
Eligibility To Participate
Body Detox Retreat With Naturopathy
10 Days Body Detox Retreat With Naturopathy India Goa (2023-2024)
| Start Date | End Date | Room Per 2 Share (AC) | Private Room (AC) | |
| --- | --- | --- | --- | --- |
| 5 Sep 2023 | 11 Sep 2023 | € 750 | € 1,020 | Apply Now |
| 28 Sep 2023 | 4 Oct 2023 | € 750 | € 1,020 | Apply Now |
| 21 Oct 2023 | 27 Oct 2023 | € 750 | € 1,020 | Apply Now |
| 13 Nov 2023 | 19 Nov 2023 | € 750 | € 1,020 | Apply Now |
| 6 Dec 2023 | 15 Dec 2023 | € 750 | € 1,020 | Apply Now |
| 3 Jan 2024 | 12 Jan 2024 | € 750 | € 1,020 | Apply Now |
| 26 Jan 2024 | 4 Feb 2024 | € 750 | € 1,020 | Apply Now |
| 18 Feb 2024 | 27 Feb 2024 | € 750 | € 1,020 | Apply Now |
| 12 Mar 2024 | 21 Mar 2024 | € 750 | € 1,020 | Apply Now |
| 4 Apr 2024 | 13 Apr 2024 | € 750 | € 1,020 | Apply Now |
| 27 Apr 2024 | 6 May 2024 | € 750 | € 1,020 | Apply Now |
| 20 May 2024 | 29 May 2024 | € 750 | € 1,020 | Apply Now |
Note: The schedule mentioned above is a sample and can change on a batch-to-batch basis.
Airport Transfer from Goa Dabolim Airport( Charges 30USD)
Accommodation, wifi
3 Vegetarian meals a day
Yoga Meditation Notes
Yoga,meditation,naturopathy, shatkriyas, mantra chanting
One Massage
Yoga mat and props for use
Wifi and Access to infinity swimming pool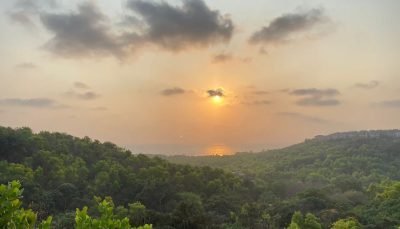 Oceanic Yoga Ashram India Goa
A registered Yoga school (RYS) in India is an opportunity to learn about the ancient practice of Yoga and its many benefits. One of the most beautiful places to train to be a Yoga teacher in India is Goa. The state is famous for its bohemian vibe, reflected in the Oceanic Yoga Center, where a one can enjoy many kinds of retreats, yoga holidays, self healing programs, emotional and body detox etc. and be experienced. We also conduct 100,200 and 300 -hour YTTC. We guide  participants on their way through the instructive and supportive path. All programs are conducted at our scenic ashram which is surrounded by fascinating landscapes and natural beauty. It is an ideal location away from the city and stressful modern life. One can also enjoy our infinity pool during the time one is here.
The natural view from the Oceanic Yoga Center is simply breathtaking.
The place located in a beautiful location, just ten minutes away from Morjim beach. Oceanic Yoga International  is close to Anjuna, Armbol, Mandrem, Ashvem, Mapusa, Siolim etc. We often receive the comment from the participants that this is the best Yoga and Meditation Location and Scenic place in the entire North  Goa.
It is also home to a variety of birds. So the best yoga teacher training India is the perfect place for you to practice Yoga and live a healthy lifestyle.
Oceanic Yoga Center is rated as one of the best places for Yoga Teachers Training and Yoga & Ayurveda Retreats in India. Here you get all the amenities you need to train to become a Yoga teacher. With eco-friendly rooms and healthy vegetarian food, this is an ideal place for spiritual seekers to explore the traditional Ayurveda and Yoga in India. The food is vegetarian or vegan (on demand).
Read What Our Students Are Saying
Choose 7 Days Yoga & Meditation Retreats Package
Most frequent questions and answers