Daily Yoga Drop-in Goa and Day Programs
Emotional Detox, a Foundation For a Balanced Life.
Detox with Yoga, Naturopathy and Ayur Massage
Oceanic Yoga School welcomes you to join our daily drop-in yoga classes. Walking in yoga classes can be a great way to start your day. Daily yoga can help you develop strength, flexibility, and endurance.
Ashtanga Yoga, Vinyasa Flow, Hatha Yoga, Alignment and Adjustments
Ayur Massage
Guided Healing Meditations, Chanting, Yoga Nidra, Satsang, Restorative Yoga
Adhoc workshops and programs will vary throughout the season : Asana techniques, Conscious breathwork, Sound healing etc.

 

NB :- Please enquire for Day Program
General Day Program will have 1 drop in yoga classes, 1 meditation, 1 Massage, Breakfast, Veg buffet lunch, Herbal tea, Access to Infinity Swimming Pool and Wi Fi
NB :- Payment options for our 'drop-in' guests that stay outside of Oceanic Yoga International Campus:
Drop-in Yoga Class    –   500 INR
7-Day Pass    –   3000 INR
14-Day Pass  –   5500 INR
Monthly Pass   – 11500 INR 
Evening Activities    –  Varies on Programs Happening .All are welcome to explore.
Workshops    –   Prices vary
All classes, activities and workshops are FREE to our Yoga Holiday guests.
Note: The schedule mentioned above is a sample and can change on a batch-to-batch basis. Mostly day program schedule is designed dynamically on arrival as per the program chosen by the participants.
Airport Transfer from Goa Dabolim Airport( Charges 30USD)

Vegetarian meals a day – as per the program chosen



Yoga, meditation, naturopathy, mantra chanting – as per the program chosen
One Massage – for day package
Yoga mat and props for use
Wifi and Access to infinity swimming pool – for day package only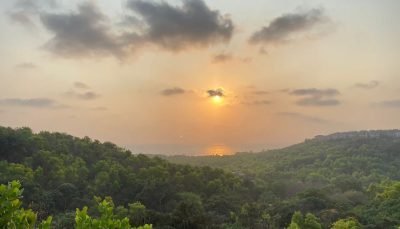 Oceanic Yoga Ashram India Goa
A registered Yoga school (RYS) in India is an opportunity to learn about the ancient practice of Yoga and its many benefits. One of the most beautiful places to train to be a Yoga teacher in India is Goa. The state is famous for its bohemian vibe, reflected in the Oceanic Yoga Center, where a one can enjoy many kinds of retreats, yoga holidays, self healing programs, emotional and body detox etc. and be experienced. We also conduct 100,200 and 300 -hour YTTC. We guide  participants on their way through the instructive and supportive path. All programs are conducted at our scenic ashram which is surrounded by fascinating landscapes and natural beauty. It is an ideal location away from the city and stressful modern life. One can also enjoy our infinity pool during the time one is here.
The natural view from the Oceanic Yoga Center is simply breathtaking.
The place located in a beautiful location, just ten minutes away from Morjim beach. Oceanic Yoga International  is close to Anjuna, Armbol, Mandrem, Ashvem, Mapusa, Siolim etc. We often receive the comment from the participants that this is the best Yoga and Meditation Location and Scenic place in the entire North  Goa.
It is also home to a variety of birds. So the best yoga teacher training India is the perfect place for you to practice Yoga and live a healthy lifestyle.
Oceanic Yoga Center is rated as one of the best places for Yoga Teachers Training and Yoga & Ayurveda Retreats in India. Here you get all the amenities you need to train to become a Yoga teacher. With eco-friendly rooms and healthy vegetarian food, this is an ideal place for spiritual seekers to explore the traditional Ayurveda and Yoga in India. The food is vegetarian or vegan (on demand).
Read What Our Students Are Saying
Choose 7 Days Yoga & Meditation Retreats Package
Most frequent questions and answers