Online Yoga Teacher Training in Goa, India
Foundation Course to become an internationally Certified Yoga Teacher
Online Yoga Teacher Training in Goa, India

Oceanic yoga, the famous Yoga School, has launched its Online Yoga Teacher Training in Goa to make yoga enthusiasts experience the intensive practice of traditional yoga. Our goal is to train new teachers who can help others practice and teach various forms of asanas.
Our specially designed Online Yoga Teacher Course  is not only about training individuals to opt for the profession of yoga teaching. It also aims to bring a spiritual change within the people to realize the inner meaning of life and soul. This yoga teacher training course by Oceanic Yoga School is internationally acknowledged and once you complete the training here, you can teach yoga worldwide.
Our curriculum is designed in a way so that you can have the knowledge of all the essential elements needed to get a deeper understanding of online yoga practices. This helps you gain more confidence so that you can become a successful yoga teacher. Our highly experienced team of yoga teachers will teach you both the fundamental stages of teaching yoga to class management.
Are you looking for a profound and deeper transformation with in you? Want to take yoga beyond the mat? A life style change? Meeting the higher self within? If these thoughts are crossing in you then you are in the right place.
Do you want to learn yoga from authentic source? We are a group of committed and sincere people with more than 16 years of experience behind what we are offering
Do you want to become a teacher who have the right teaching methodologies, skills, and knowledge to teach?
The Curriculum of
Online Yoga Teacher Training
Upcoming Online Yoga Session(2023-2024)
One of the oldest Yoga School in Goa
Oceanic Yoga started its foundation in Goa in 2007, India. Many experienced Yoga practitioners and beautiful souls were drawn to the Ashram and joined Oceanic Yoga's teaching team, and shared their knowledge with the best. More than 2500 students graduated through us.
Oceanic Yoga is a Registered Yoga School in Goa by Yoga Alliance, and our teachers are experienced and qualified to teach Yoga Teacher Training Courses and Yoga Retreats. Oceanic Yoga school helps students to learn, transform, and spread their love and light to the world.
Awareness, yoga, meditation, harmony, peace, and self-transformation are the qualities we uphold for the school and for our Yoga Teacher Training Students. The school professes that teaching yoga and meditation goes beyond just being a job or business, but rather a way of living. Teaching yoga is another way to instil one's own yoga and meditation practice regularly. Yoga teacher training program is to deepen your learning and teaching abilities and developing yourself as a more rounded and grounded teacher and person. We can embrace the fact that we are both the student and teacher at the same time. To be a teacher is a great responsibility and necessity to our world that need great teacher more than ever. Millions of people are groping in the dark and suffering with psychological and emotional challenges, unaware of the opportunity that yoga and meditation practices bring to focus life perspectives towards the positive. Now, the world is going through critical time where intense vibrations seem to overwhelm our potential inner calm. Through the practice of yoga, we can become the eye in the storm and dedicate our attention, intention and focus to resonate with positivity within us and let it spread unconditionally to those that come to us to learn, take refuge or be inspired.
Oceanic Yoga School is an experienced yoga school providing professional yoga education since 2007 in the traditional systems of Ashtanga and Hatha Yoga. We have the best and ideal Yoga Ashram in North Goa for anyone who want to experience the beauty and luxury of nature along with Yoga, Mediation, Ayurvedic Massage, Swimming Pool with Ocean view and delicious and variety of vegetarian Indian dishes without the hotness of chilies. 🌶️
2500+ Yoga Teachers Certified
Over 2500 students got trained through us since 2007 and thus gained proficiency in designing impactful courses and how to deliver it to the aspirants in the perfect way and format. Many of our students are running yoga studios successfully in their own countries.
Oceanic Yoga School in Goa is located on a small hillock overlooking Arabian Sea with a swimming pool having a feeling of infinite sky and ocean meeting each other. The cottages are with balconies and are air-conditioned whole property is surrounded by   lots of trees and still just 10 minutes from the beach.
Authentic, Committed, and Sincere Yoga Teachers and Meditators
We are a small group of people who are committed their life for self-growth and yoga and we believe that spreading yoga and meditation is one of the best things we can do in the world to participate in collective consciousness upliftment.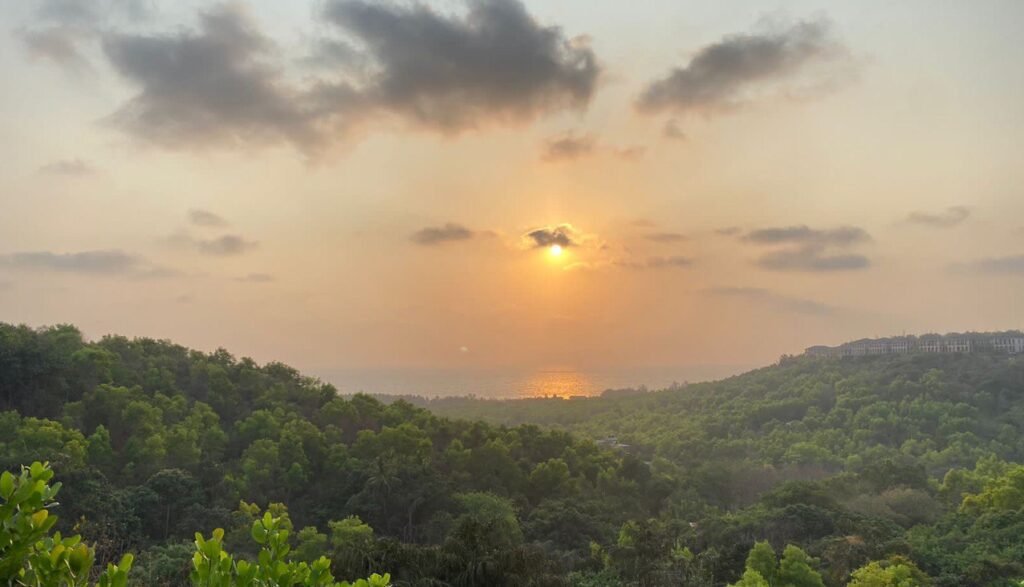 Oceanic Yoga Ashram India Goa
A registered Yoga school (RYS) in India is an opportunity to learn about the ancient practice of Yoga and its many benefits. One of the most beautiful places to train to be a Yoga teacher in India is Goa. The state is famous for its bohemian vibe, reflected in the Oceanic Yoga Center, where a 200-hour Yoga TTC can be completed. Expert gurus guide students on their way through the instructive path. Most programs are conducted at our ashram which is surrounded by fascinating landscapes and natural beauty. It is an ideal location away from the city and stressful modern life.
The natural view from the Oceanic Yoga Center is simply breathtaking. The training for yoga teacher Goa is located in a beautiful location, just ten minutes away from Morjim beach.
It is also home to a variety of birds. So the best yoga teacher training India is the perfect place for you to practice Yoga and live a healthy lifestyle.
Oceanic Yoga Center is rated as one of the best places for Yoga Teachers Training and Yoga & Ayurveda Retreats in India. Here you get all the amenities you need to train to become a Yoga teacher. With eco-friendly rooms and healthy vegetarian food, this is an ideal place for spiritual seekers to explore the traditional Ayurveda and Yoga in India. The food is vegetarian or vegan (on demand).
Read What Our Students Are Saying
Most frequent questions and answers