A country where you can feel spirituality with every breath you take. A very mystical, unique place where all goes with the flow.
In Indian culture, Yoga training in India has always been an essential part. The development of yoga can be found back to over 10'000 years. It found its fullest appearance in this place. India provides an authentic experience to learn yoga. To deepen your knowledge, practice and becoming a good yoga teacher it needs a lot and you can find it here in India where the source of Yoga in India is.  The Indian people famous for their humanity, tolerance, strong social bond, and their welcoming culture. Far away from home you can focus on your own practice and have the opportunity to learn from masters who know yoga for their whole life.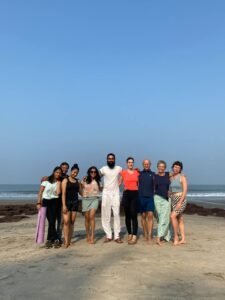 People from all over the world come to India to learn more about yoga. If you are doing yoga training India you will meet different kind of people from all over the world.
All of the people who are coming to India are open-minded. It is nice to exchange experiences, thoughts, and emotions with other students or with your teachers. As a group, you will spend a lot of time together and in the end, you will feel like a big family!
Food:
The food in India is delicious. With its different tastes from spicy to sweet anything can be found. In the different areas of India varies dishes are prepared. As a lot of the Indian people follow a strict vegetarian diet, it is easy to get a lot of options for vegetarian food and restaurants. The meals are always freshly made and with local ingredients. Nowhere else such a variety of street food can be found.  An explosion of flavors which must be explored!
Religions and Traditions:
The national language of India is Hindi. India is a multi-culture country where all the followers of different kind of religions live peaceful together. One thing they all have in common: The festivals. Colorful celebrations happen throughout the year. To visit such a festival is a way to see the Indian culture in an original, unique way.
Uncountable temples show what religion means to the Indian people.  Build in ancient times the temple shows the greatness of the Indian history and culture. Besides the temples, there are a lot of Buddhist monasteries located in India.
Spirituality:
This kind of spiritual vibe can just be found in India! The spiritual and mystical euphoria in this place attracts a lot of people for a blissful experience with pure emotions in their spiritual journey. Nowadays the world builds more and more space for material things and we are paying less attention to our emotions and feelings. A lot of people think they can buy their way to happiness in these times the question and search for a deeper sense of life grows more and more. The traditional way of living in India has developed and improved Spiritualism. Various spiritual leaders were born and raised in India, where they spread the message of peace and love in the whole country. Ashrams and other spiritual centers have helped in growing a sense of positive and healthy living.